Could This Be The Most Daring Movie By Nse Ikpe-tim And Blossom?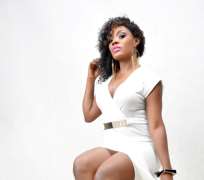 Nse Ikpe Etim and Blossom Chukwujekwu played major roles in the new movie, The Visit, which is set to hit cinemas October 16. The highlight is the daring role these two played, when Blossom was seen performing oral sex on Nse Etim; Which leaves so many questions as to weather this is their daring movie ever.
The visit which is a four cast movie, is the story of two couples living together in the same house, but with completely different lifestyles. Their parallel lifestyle at a point colluded and the resulting effect were intriguing plot and sub-plot, that has made those privilege to view the movie privately dubbed IT as the most sensational Nollywood thriller of 2015.
An intriguing thing that stands the Koga produced movie out is the four cast member, which brings to fore the production ingenuity of the people behind the movie.
The Visit, which is produced by Biodun Stephens, directed by Funke Fayoyin, and executive produced by Koga Entertainment will be in cinemas across Nigeria from October 16.
BAYRAY
NSE-IKPE-ETIM1
THE VISIT 2