WatsUp TV Presents Invasion Party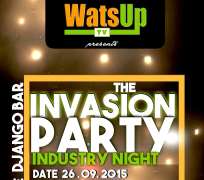 After a successful 1 year in the Ghana Music Industry, pioneering some of the best television shows in Ghana, the producers of WatsUp TV areset to host a WatsUpTV Invasion party to celebrate their the success of the television shows so far.
The Party which will be hosted at Django Bar on the 26th of September will feature top celebrities in the industry and beyond, some who have been guests on the various segments of the shows.
The celebration of this august anniversary is also set to boost fans confidence in the show as WatsUp TV continues its delivery of top entertainment to audiences across the continent.
The Invasion Party, which will feature Marquee celebrities in the Ghanaian industry and will also be an opportunity for fans to get the chance to party with their favourite celebrities.
The Party promises to be one of the biggest nights in celebrity night life history coupled with surprise performances and guest appearances from Top Ghanaian acts and celebrities as it has always been the aim of WatsUpTV to bridge entertanment in Africa.
So kind of WatsUp TV, the producers will be giving 50 free tickets to loyal fans who use the hashtag #WatsUpTVinvasion to post on social media together with other special packages to be given out before and on the night of the event.
The WatsUpTV Invasion party promises to be of top class and fun filled for all who will be present on the night of the invasion.
WatsUpTV will also be holding series of future events which are all set to take the country by storm.