Udom Recounts Achievements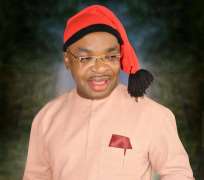 Akwa Ibom State Governor Mr Udom Emmanuel says the five point agenda of wealth creation, economic emancipation, political inclusion, infrastructural consolidation and job creation of his administration are tilted towards creating sustainable development.
Governor Emmanuel stated this over the weekend in a state broadcast to mark his one hundred days in office.
He said the period has afforded him the opportunity to lay foundation for laudable projects and also resuscitate moribund industries.
He listed the projects to include an automobile industry and a Led factory in Itu Local Government Area, Shoprite Shopping Mall in Uyo the state capital, Daar Communications Broadcast Complex and Greenwell Technologies Fertilizer Manufacturing Plant at Abak Local Government Area in addition to Peacock Paint Limited which he has resuscitated in Etinan Local Government Area.
This, according to the Governor, is carried out alongside infrastructural development having flagged off the construction of various roads, embarked on different intervention measures on natural disaster as well as facilitating improvement of facilities at the International Airport
As regards workers welfare, Mr Emmanuel said he has put smile on faces of serving and retired workers as he has ensure prompt payment of salaries, payment of gratuities to retired local government staff and other unit of the Nigerian Union of Pensioners.
Mr Emmanuel said the state has witnessed improvement in electricity supply even as youths have been variously empowered to prepare them for industrial revolution that is about being experienced in the state.
On food sufficiency, Governor Emmanuel stated his commitment to developing agriculture through mechanised farming. He also talked about reintroduction of monthly environmental sanitation and boasting healthcare delivery stressing that the measure is to ensure the wellness of the citizenry.
While thanking the people for the mandate given him, the Governor assured that the state under his watch is on steady course to turn things around for the betterment of all and called on the people to eschew bitterness and close ranks to rekindle the bond of love for which Akwa Ibom person is known.