When Will Wike Declare His Assets?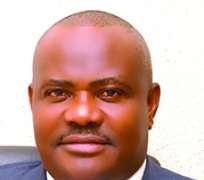 Barely forty eight hours after the controversial and unpopular emergence of Barr. Nyesom Wike as the Governor of Rivers State, he intensified his usual verbal attacks on his predecessor - Rt. Hon. Rotimi Chibuike Amaechi. With all the paraphernalia of executive power, Chief Wike embarked on a 'pull him down' mission against Amaechi. Of course, every government has a right to probe the past government, but the manner through which it is done often speaks volumes of the actual intention.
Out of all Wike's endless vociferations, one statement that caught my fancy was this: "in line with President Buhari's war on corruption, I have decided to probe the administration of former Governor Chibuike Rotimi Amaechi", and true to his word, he hurriedly set up the controversial 'Judicial' panel of Inquiry to probe only eighteen months out of ninety six months of Amaechi's tenure as Governor. Worst of all, the head of the panel, Justice Omereji, is said to be a sworn enemy of the former Governor.
As a citizen of Nigeria, I believe that Governor Wike is within his rights to probe the former Governor of Rivers State through a non controversial "Panel of Inquiry", but my worry is this: does Wike have the 'moral' standing to probe Amaechi or any other person in that matter? Can Wike stand in front of God and man and profess that his hands are not stained with the drippings of PDP's sixteen years of mindless looting and gross wastage? I am very sure that the answers to these posers reside in the bosom of the Almighty God, Wike, EFCC or maybe Lucifer.
Yesterday the public presentation of the assets of President Buhari and his Vice inundated the airwaves. Some people saluted this historic action of the President in line with his anti corruption agenda, while others as usual tried to pick holes in the trending gist. My immediate concern is with the present Governor of Rivers State. Here lies the ultimate test of his entire existence as a Politician and public servant in Nigeria.
Now the question that looms large is this: In line with President Buhari's war on corruption, when will Wike publicly declare his assets?
Follow Solomon on Twitter @Okocha_info
Disclaimer:

"The views/contents expressed in this article are the sole responsibility of

Solomon Okocha

and do not necessarily reflect those of The Nigerian Voice. The Nigerian Voice will not be responsible or liable for any inaccurate or incorrect statements contained in this article."