ECOWAS IMPOUNDS 3,500 CARTONS OF FAKE SOAP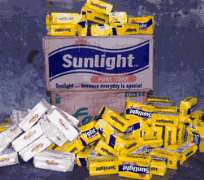 The joint border patrol and task force of the Economic Community of West Africa States (ECOWAS) has confiscated 3,500 cartons of fake Sunlight and Fanico Soaps. The products, valued at N13.6 million, were bound for the Lagos market as the importer who was intercepted with it told the security operatives that he operates a shop at the Oke Arin Market, Lagos Island.
The fake products, which Unilever Ghana produces the original, was allegedly imported by Jide Fasugba and intercepted in his possession on April 2 along the Seme-Cotonou border.
Fasugba's consignment was seized at about 1.17 am when they attempted to move in the fake products at night to avoid detection.
A statement from the Manufacturers Association of Nigeria (MAN) thanked the joint team for the move and asked for its further assistance to fight to a final stop, the menace of product faking which they stated kills the local manufacturers both in Nigeria and other West African countries.
The fake products are suspected to have come from China while the original product of the faked Fanico Soap belongs to the Unilever of Abidjan, Cote D'Ivoire. The suspect was handed over to the Nigerian security forces, Fasugba and the consignment were moved to the State Security Services (SSS) office in Okokomaiko, Lagos.The products and the owner would later be handed over to the National Agency for Food, Drug Administration and Control (NAFDAC) for further investigation.
MAN and NAFDAC, which have been working in consonance with the ECOWAS team, noted that the latest onslaught was one of the most comprehensive in the integrative use of intelligence to track fakers.
'The way the allied forces teamed-up to act on the intelligence we sent them was exciting. It is a sign of how good a collaborative effort to check fake product importers could be for the safety of our markets and consumers.
'These products are outlawed in these countries and indeed in all the ECOWAS states. We still solicit the support of the people to shun the products in the market as they are unsafe, adulterated and unknown to our regulatory agency.
'What we have done is part of our resolve to make sure we stamp out fake products from our markets to make the place safer and better. Nigerians should not forget that when fake products flood our markets, the consumers are in danger and our factories that employ Nigerians to keep the economy virile is hampered thereby killing the entire system.'
NAFDAC and MAN, therefore, urged the public to watch out for product in the market that don't bear NAFDAC accreditation and shun them.