IBB MUST ACCOUNT FOR $12.4BN OIL WINDFALL – FALANA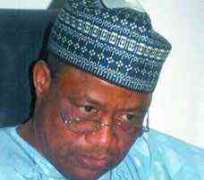 Human rights lawyer, Femi Falana, has called on former Nigerian military head of state, General Ibrahim Babangida (Rtd) to account for how his regime spent the Gulf war windfall of $12.4billion which allegedly got missing. A statement by the Lagos-based lawyer, said: 'The point is that Nigerians deserve explanations as to what exactly happened to the accrued oil revenue of $12.4bn which apparently went missing during the Babangida government. 'And anyone who loves this country would expect accountability for the missing funds.
No amount of misinformation or misrepresentation of the facts and conclusions of the Okigbo report by anyone can stop the demand by Nigerians for accountability in this matter. The action by the civil society groups is indeed patriotic.'
According to him, based on an Okigbo panel report which made several conclusions on how the money was spent, a petition dated April 7, 2010 by a coalition of civil society groups in the country sought accountability for the money to the new Attorney General of the Federation and Minister of Justice, Mohammed Bello Adoke, asking him to prosecute the former military president. The group, in its petition dated April 7, 2010, threatened to go to court to compel the justice minister to try the former president.
The group comprising Social Economic Rights and Accountability Project (SERAP), Committee for the Defence of Human Rights (CDHR), Access to Justice (AJ), Civil Society Legislative Advocacy Centre (CISLAC), Women Advocates and Documentation Centre (WARDC), Human and Environmental Development Agenda (HEDA) and Nigeria Voters Assembly (VOTAS).
According to Falana, IBB has reportedly said that he 'was never indicted by the Okigbo Report,' and that much of the funds went to infrastructural development of the Federal Capital Territory, Abuja.
The lawyer pointed out that Babangida, in a press release titled 'Who is Afraid of General Ibrahim Babangida?' signed by his spokesman, Prince Kassim Afegbua denied that he was ever indicted by the Okigbo panel. What the report revealed was that much of the funds were concentrated on infrastructural development of the Federal Capital Territory, Abuja, which it considered was not a priority. According to him, Babangida said the report also called for an overhaul of the Central Bank of Nigeria (CBN) to enable it perform its functions optimally.