INEC: EXPECT SHAKE-UP –JONATHAN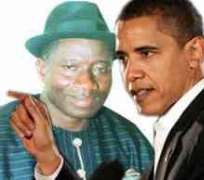 Acting President Goodluck Jonathan is promising credible elections next year, in what American government officials have endorsed as 'a major change from the widely condemned 2007 polls,' and the clearest indication of the fate that awaits top officials of the Independent National Electoral Commission (INEC) once he returns to Abuja.
As part of efforts to ensure free and fair elections in 2011, Jonathan has said he would review 'individually' each member of the INEC and those found wanting would be sent packing. He spoke in Washington where he met President Barack Obama ahead of the nuclear summit being hosted by the American president.
'The ones who we feel are not good enough to be reappointed, we will not reappoint, and we will inject fresh blood,' the acting president said.
He added: 'Between now and the 2011 elections, there will be lots of changes.' He, however, sidestepped criticism of INEC Chairman, Professor Maurice Iwu. Rather, he said, 'I'm convinced that INEC, the president of INEC, can conduct elections in Nigeria that are free and fair.'
He stressed that his administration would tolerate no wrongdoing in the forthcoming general elections, assuring that the election would be free and fair. 'I've given clear directives to the Independent National Electoral Commission (INEC) that we will not accommodate any wrongdoing,' he told a panel of experts at the Council on Foreign Relations think-tank.
Jonathan considers the 2011 elections as a challenge to Nigeria's leadership role in Africa. Nigeria 'must show the lead in Africa, especially as it concerns how elections are held,' he said.
Earlier President Barack Obama, in the presence of Secretary of State Hillary Clinton and Nigerian officials tied an expanded American assistance to Nigeria on a credible elections next year. The American leader said there has to be changes on the leadership of all agencies responsible for the elections based on their past records.
Mr. Jonathan who addressed journalists and foreign policy experts in Washington, a few hours before the start of the U.S. nuclear security summit said it will be hard to accomplish much in the 12 months left in his term, but that he will ensure Nigeria carries out an internationally acceptable election.
Observers said Nigeria's 2007 elections were deeply marred by intimidation and ballot box-stuffing and fraud by INEC officials. Earlier this month, the top U.S. diplomat for Africa, Johnnie Carson, urged Nigeria to replace the elections chief Maurice Iwu if it wants the 2011 polls to be credible.
Mr. Jonathan did not say whether he plans to run in the 2011 polls, and did not comment on the health of ailing President Umaru Yar'Adua. But in an indication that the era of President Yar'Adua may be over, America officials openly called Jonathan 'President of Nigeria.' On Sunday, the Nigerian acting leader met with U.S. President Barack Obama.
The White House says Mr. Obama urged Mr. Jonathan to follow through on promises to fight corruption and pass electoral reforms. Mr. Obama also said the United States places great importance on its relationship with Nigeria. Nigeria is a major supplier of oil to the United States, as well as the most populous country in Africa.