Catholic Archbishop Of Owerri Puts The Pressure On Governor Rochas Okorocha To Publish All Financial Accounts Of The State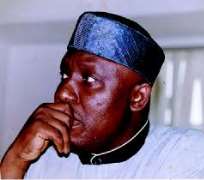 Following the continuous agitation by workers and pensioners of Imo State over months of unpaid salaries and pensions, the Catholic Archbishop of Owerri Ecclesiastical Province, Most Rev. Dr. Anthony Obinna, has challenged the state governor, Rochas Okorocha, to publish the state accounts so that the citizenry would know the actual financial health of their state.
Speaking yesterday while delivering a sermon at Maria Assumpta Cathedral, Owerri, Obinna said the publication of the financial state of affairs would enable the citizenry to know the true position of things.
According to him, people are no longer comfortable that the state government, under Governor Okorocha, can no longer fulfill its constitutional obligation of paying workers' salaries and pensions to retired workers which according to him, "is the first line charge by every well meaning government". "Lack of salary creates room for murmuring.
It is necessary that parents receive their salaries and pensions to take care of themselves and their families. When parents do not provide for their families, it will lead to murmuring", he said.
Archbishop Obinna also said that there is no cogent reason workers, and pensioners, should not be paid if the state was buoyant. "If there is money, why is it not being used to pay workers and pensioners? If there is no money, it is important to let the people know.
Lack of accountability and transparency could lead to murmuring", Archbishop Obinna said, adding, "since government account is not a personal thing, it should be made public, if the government truly wants to be accountable, as well as wish to dispel doubts regarding misuse of public funds. "Publish the account so that everybody will know that there is no money.
But as long as Nigeria is considered a rich country, as long as oil is still flowing, everybody is looking up to see when the oil money will get to the state", Obinna said. He then prayed God to touch the hearts of those who are keeping the monies to release it so that things will positively change.
It would be recalled that the Association of Retired Permanent Secretaries of Imo State last week declared the state government bankrupt, accusing the Governor Rochas Okorocha-led government of having run the state aground by refusing to pay workers salaries and pensions.
They expressed dismay over the manner the state governor was maltreating civil servants and pensioners, saying he sees the workers as his bitter enemies instead of partners in progress. The retired permanent secretaries also accused the governor of vowing to exterminate them by refusing to pay pensioners their pension arrears and gratuities.