AFRICA BILLIONAIRE, ALIKO DANGOTE BUYS 7 BILLION NAIRA ( ABOUT $45.5 MILLION) BOMBADIER AIRCRAFT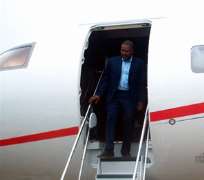 Alhaji Aliko Dangote has taken delivery of his new Bombadier Global Express XRS. The Aircraft would the third in his fleet.The aircraft landed the Nigerian airspace from Canada yesterday (The same say that the billionaire marked his 53rd Birthday in Lagos).
In this year's Forbes Richest Billionaires in the world, Dangote, a Nigerian from the northern city of Kano was also listed.
nollywoodgists.com gather that the 8 seater jet is worth about 7 billion Naira. The journey from Canada to Nigeria was said to have taken about 9 hours.
"The Global Express XRS is an improved version of the original aircraft, offering higher cruise speed, increased range, improved cabin layout and lighting. It is reported that the letters have no significance, but were chosen by focus groups simply to improve the brand image.
The range increase is achieved by addition of a 1,486 lb (674 kg) fuel tank at the wing root. The Global Express XRS entered service in early 2006. The unit price is estimated to be $45.5 million (US). Bombardier claims it takes 15 minutes less to fuel the XRS than the original model thanks to improved computer systems and mechanical refinements"
Dangote is a commodity merchant and financial back up of the ruling Peoples Democratc Party (PDP) in Nigeria. He is also the Chairman of Dangote Group of Companies and his investments are in cement,sugar, oil, banking,properties and other areas.
www.nollywoodgists.com
Story by nollywoodgists.com