Fresh bomb blast rocks Adamawa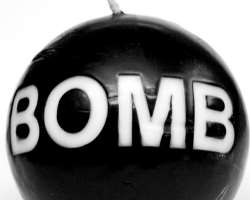 Barely a month after a suicide bomber detonated a bomb that killed 40 people in Adamawa State another explosive occurred on Thursday July 9, 2015 morning in Kofare area of the North local government.
The bomb explosion occurred near a mechanic workshop opposite the State Headquarters of the Federal Road Safety Commission (FRSC) along Numan Road in which two persons sustained minor injuries.
It was gathered that four under-aged children were said to have been given the explosive to drop at a specific place in Bachure suburb village, mainly inhabited by retired soldiers.
The bearers of the explosives, two of them now in police net, confessed that an unknown person gave them the device to drop at the target after N2,500 payment.
The boys told detectives that after collecting the container, it was too heavy for them to deliver at the targeted place because of the inconveniences in carrying it and decided to sell it to a dustbin scavenger, whom they ran into at the nearby mechanic workshop.
They claimed that the dustbin scavenger approached refused to buy the container, saying that (he) scavenger do not buy anything below one kilogramme in weight.
The dustbin scavenger, who is now helping the police in their investigation was also hit by the blast, explained that while they were negotiating with the four bearers of the container, he started noticing smoke from it and before he could make a step, it went off shattering his legs and those of the two bearers of the explosive.
In the ensuring confusion following the loud bang from the blast, two of the bearers sneaked away from the scene of the blast.
The magnitude of the explosion extended to the state headquarters of the Federal Road Safety Commission (FRSC) as its intelligence officers were quickly drafted to the scene.
FRSC Sector Commander, Luka Ikpi, when contacted, said that when he heard the loud bang, he ran out of his office to inquire what really happened.
According to Ikpi, 'One version suggested that it was tyre burst since it was close to a mechanic workshop, but I insisted that my intelligence officers should go and confirm.
'And on reaching there, it was discovered to be grenade explosive and the boys were arrested and brought to our office before the arrival of Anti Bomb Squad from the State Police Command.'
When the Anti-Bomb Squad and other security operatives arrived at the scene, many arrests were made, including those within the vicinity of the mechanic workshop.
All the suspects picked from within the area were taken the State CID in three Hilux Jeep cars.
The development has forced security operatives to beef up their operations as flashy points are being cordoned off.
However, fear of possible bomb blast has heightened in the State capital of recent following series of explosions in many states of the North.