JONATHAN APPROVES FURTHER FOREIGN TREATMENT FOR YAR'ADUA –INVESTIGATION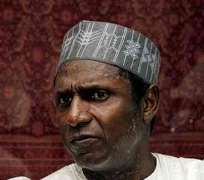 Forty-four days after President Umaru Yar'Adua was brought back to the country in the cover of darkness, indication has emerged that the ailing president would be flown abroad again for further medical treatment.
Yar'Adua was hurriedly evacuated to Saudi Arabia on November 23 last year and was admitted to the King Faisal Specialist Hospital and Research Centre in Jeddah.
A few days later, his Special Adviser on Media and Publicity, Mr. Olusegun Adeniyi, issued a statement signed by the president's personal physician, Dr. Salisu Banye, saying that Yar'Adua was suffering from 'acute pericarditis', a covering of the heart membrane that impedes blood circulation.
Just like he was secretly flown out, Yar'Adua was flown back to Abuja in an air ambulance in the wee hours of February 24, two weeks after the House of Representatives and the Senate had passed resolutions on February 9 empowering the Vice President, Dr. Goodluck Jonathan, to assume office as Acting President.
The National Assembly took the step because continued absence of the President was threatening to plunge the nation into serious constitutional crisis, particularly because he was held incommunicado by his wife, personal aides and kitchen cabinet.
But Saturday Punch investigation revealed on Friday that Acting President Jonathan, who had since replaced the National Security Adviser, dissolved the Executive Council of the Federation, reconstituted it and sacked the Group Managing Director of the Nigerian National Petroleum Corporation, was ready to approve that Yar'Adua be flown abroad again for further treatment.
A Presidency source said that Jonathan had also given the nod to the Yar'Adua family to fly him to any country recommended by his doctors for comprehensive medical treatment whenever the need arose.
The source said that Jonathan was willing to approve all necessary logistics for the President's medical trip abroad.
'It will then be left for the President's doctors and his family to decide whether they want to return him to Saudi Arabia or find another country where he will be able to receive the necessary medical attention,' the source said.
It was revealed that Jonathan's gesture to his boss was contrary to speculations that the new cabinet he inaugurated at the Aso Rock Presidential Villa on Tuesday will soon invoke Section 144 of the Constitution to activate the process of removing the ailing president from office on the grounds of permanent incapacitation.
It was further gathered that Jonathan's gesture was also meant to reassure the Yar'Adua family who had adopted panicky measures in the last two weeks by inviting some Islamic and Christian clerics to visit and pray for the ailing president in his residence, a departure from their initial policy of making access to him impossible since November 23, 2009.
The source told one of our correspondents that Jonathan would not move against Yar'Adua because 'his motive for dissolving and reconstituting the cabinet was to deliver good governance to Nigerians.'
The source added, 'You know the antecedents of Jonathan right from his days as Deputy Governor of Bayelsa State, Governor and his selection as running mate to Yar'Adua in the 2007 election.
'The man is not desperate and he still sees Yar'Adua as his boss and would be willing to hand over to the President whenever he recovers from his illness.
'The Acting President will not invoke Section 144 against Yar'Adua. That is not the reason for dissolving and reconstituting the Federal Executive Council.
'In fact, he has approved that Yar'Adua be taken outside the country for medical treatment and that he was willing to handover to him whenever he recovers.'
The Acting President was quoted as saying that he was not desperate for political power as only the Almighty God has the ability to determine who will be entrusted with positions of authority and power.
The Senior Special Assistant to the Acting President on Media and Publicity, Mr. Ima Niboro, could not be reached to react to the revelation that Jonathan had approved further foreign medical trip for Yar'Adua.
Calls placed to his telephone lines rang out unpicked while an SMS message saying, 'Hello sir, my office needs to confirm a report that the Acting President has approved a plan to fly the President to a foreign hospital. Thank you,' sent to him by one of our correspondents, was not replied.