Reading Buhari's Mind...An Impressive Succession Of Smart Moves!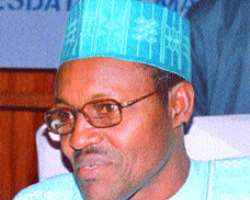 I missed his swearing-in altogether...a rather regretful thing...no thanks to fuel scarcity...a remnant of the odium of the previous junta...
The misfortunes of a nation...all apparently stacked in series like a pack of cards arranged to fall in cascading sequence!
I had prided myself in my abilities to "improvise" and manoeuvre out of any situation...but my magic failed to cope with this one!
But I have somehow managed to catch on by relying on stale news.
Well, what can I do...
And so I hear that President Muhammadu Buhari has visited Niger Republic and Chad.
A smart move!
So impressive that Mr President's first foreign visit would be to the "frontline states" in our fight to rout Boko Haram. Straight on course! Security must come first!
I also learnt that Mr President has sent a list of 15 advisers to the national assembly....his first request of the "august assembly"....promptly if not hurriedly approved...just like 48 other bills our rascally legislooters passed within a spate of 10 minutes!
A record-smashing feat, I must admit... I guess they were trying to make up for lost time, albeit belatedly...a move aptly referred to as vintage comedy by a commentator!
But yet another smart move by Mr President...that is, if his game plan is to do away with money-squandering and money-guzzling ministers....and their plethora of spurious aides....and rule with just a motley of advisers for the time being!
Let no one cite some constitution now....for no meaningful constitution would impose a burden of expenses to fatten uncaring "legislootive" bellies at lean times without specifying the magic wand to conjure such monies!
My gut feeling is that this president..like the true war-tested fire-baked general that he is...is snooping for loopholes in the constitution through which to sideline all the intra-...and extra-party thieves already bracing up to loot our treasury further!
And who to show him the legal ways to do this than a committed team of technocrats as advisers!
I hear only Mr President can swear in the 8th national assembly. An assembly that is not sworn into office is of no consequence and cannot issue threats of impeachment to the president!
And news making the rounds also indicate that he might just oversee the Petroleum Ministry himself.
Smart move again!
Dr Tosin Akindele is a medical practitioner and public affairs analyst.
Disclaimer:

"The views/contents expressed in this article are the sole responsibility of the author(s) and do not necessarily reflect those of The Nigerian Voice. The Nigerian Voice will not be responsible or liable for any inaccurate or incorrect statements contained in this article."
Articles by Tosin Akindele