I Made Millions For Portsmouth €" Redknapp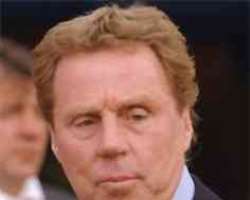 Portsmouth boss, Harry Redknap
Harry Redknapp has launched a passionate defence against accusations that the construction of his FA Cup-winning Portsmouth team is the root cause of Pompey's current crisis.
Since lifting the trophy in 2008, Portsmouth have gone into financial meltdown and are doomed to relegation from the Premier League this season following a nine-point penalty for going into administration.
Ahead of this weekend's FA Cup semifinal against his old club, the Tottenham Hotspur manager gave an incredible insight into Pompey's problems, in an exclusive pre-Wembley interview with Soccernet.
Redknapp said,'Yes, it is a nightmare at Fratton Park, and I do feel sorry for them – who wouldn't? They have gone from supposedly having one of the richest owners in the world to having four different owners this season.
'But when people talk about it all going back to the excesses of the team that won the FA Cup when I was manager, it really, really is absolute rubbish!
'I spent £32m on the team that won the FA Cup at Portsmouth, and the players were sold for £85 million. Now, tell me – that's good business not bad business. So, no one can blame me for what has happened since the club won the FA Cup.
'We bought Diarra for £5m and he was on £2.5 million a year wages, and he was sold for £22 million. We bought Glen Johnson for £4 million on £1.5 million a year wages and he was sold for £18 million. I could go on and on.
'I spent £32 million on the team that won the FA Cup at Portsmouth, and the players were sold for £85 million.'