Fabregas Boost For Spain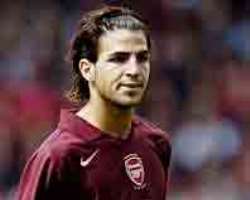 Arsenal is confident that Cesc Fabregas will have recovered from his broken leg in time for the World Cup.
The Gunners skipper suffered a hairline fracture to his right fibula in the 2-2 draw at Emirates Stadium on 31st March.
Fabregas, who was a doubt after sustaining heavy bruising to his leg in the draw at Birmingham the weekend before the game, tangled with Carles Puyol late in the game and has since been ruled out for the rest of the campaign.
Physio Colin Lewin has given a positive update on the Spain international and expects him to be available to the European champions in South Africa.
And the Gunners have denied suggestions that their skipper was injured before the match, insisting that they would never risk a player who wasn't fit and ready.
'Cesc is doing well,' Lewin told the club's official site. 'He is likely to be out for the rest of the season with a hairline crack of his fibula.
'If all goes well he will comfortably make the World Cup and we will be constantly monitoring him.'
He added, 'The injury was certainly a result of the tackle by Carlos Puyol at the end of the Barcelona game.
'There were some ill-informed media reports that the fracture was sustained before the Barcelona game and those reports, put simply, were untrue.'
Lewin said Fabregas had suffered a knock in the 1-1 draw with Birmingham but insists all of the correct procedures were taken to ensure he had no lasting damage.
'He suffered heavy bruising in the Birmingham City game but to suggest that someone can run around for 85 minutes against Barcelona with a fractured fibula is just farcical,' he said.
'We examined Cesc after the Birmingham game and he had suffered heavy bruising. The X-rays confirmed that there was no fracture.
'At the end of the Barcelona match, following the challenge with Puyol, Cesc had an X-ray to determine the damage. It showed a hairline crack, which unfortunately means Cesc will miss the rest of the season.'
Lewin also revealed that striker Robin van Persie is on course for a return to training after several months on the sidelines following ankle surgery.