Military recovers atrocious video recordings from Sambisa forest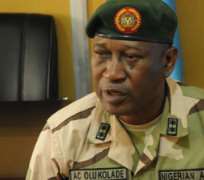 The Director, Defence Information, Maj.-Gen. Chris Olukolade, has confirmed that troops of the Nigerian Army recovered video recordings of the atrocious acts perpetrated by the Boko Haram insurgents.
Olukolade, however, refused to disclose further information about the crimes against humanity captured in the videos in possession of the military.
'It is true that troops have captured some video recordings of the terrorists but I would not want to say anything on that for now,' he said.
He also confirmed to an Abuja based media consultancy firm to security agencies, the PR Nigeria, that the videos were being analysed by the military.
'A number of vital materials, apart from arms and ammunition, have been recovered which are being subjected to intelligent analysis. We don't want to say much about that now.' Olukolade was quoted as saying.
Investigation revealed that the videos have scenes of trials, stoning of condemned people to death, amputations, beheading of victims with knives and summary execution through shooting.
It was learnt that the Joint Investigating Panel of the security agencies had commenced investigation into the activities of the terrorists and would soon present those found to be culpable of these heinous acts for trial.
It was stated that the military was taking the issue of the videos seriously because they were being prepared for posting on YouTube to create fear in the civil populace.
PR Nigeria quoted a military as saying, 'Some of the video were meant for release through their normal channels to the public before they were dislodged from their camps. They also show the barbaric life in their so-called caliphate.
'The media and the public are advised to be careful in handling or sharing sensitive and offensive videos depicting atrocities that some viewers may find disturbing.'