He's Like A Playstation Player €" Wenger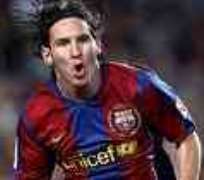 Arsenal manager Arsene Wenger described the four goal performance of Lionel Messi in Barcelona's destruction of his side in their Champions League quarter-final second leg clash as something out of a computer game. Following the 2-2 draw at the Emirates, Nicklas Bendtner put the Gunners ahead on aggregate before a solo performance from the majestic Messi who bagged his first ever four goal haul - the sixth player in Champions League history but the first since Andrei Shevchenko five years ago - as Barca ran out 4-1 winners (6-3 on aggregate).
'Congratulations to Barcelona, they deserved to win over the two legs. They are a good side but Messi makes the difference as he can win the game at any moment. He is like a Playstation player, he can take advantage of every chance,' said Wenger, who felt that his side was up against the top side in Europe at the moment.
'We made too many mistakes defensively when we had possession of the ball and we paid for it. We are a young team and we can improve a lot.
'The future is very positive but we lacked maturity in the final ball tonight (Tuesday).
'After we scored our first goal we had a great chance to score again but we made a bad decision with the final ball.
'I don't know if Barcelona will win the Champions League but they will have their chances especially with players returning.
'They are the best side at the moment but it is a cup and we could have made it very difficult for them.'
Arsenal can ease their disappointment now by concentrating on the fight for the Premier League title with their next match against local rivals Tottenham Hotspur.
'We now need to focus on the Premier League and we now go to White Hart Lane which is a place where we have done well before,' said Wenger.
'We need to be fully focused but it will be the best thing for us to play a derby.'