Xenophobia: FG recalls Nigerian envoys to South Africa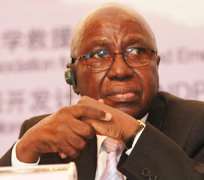 The Federal Government has recalled its High Commissioner to South Africa, Martin Cobham, and his deputy, Uche Okeke, to protest the continued attacks by South Africans on Nigerians and other foreigners in the former apartheid enclave.
In a statement on Saturday by the Foreign Affairs Ministry, the Minster of Foreign Affairs, Ambassador Aminu Wali, said the envoys had been summoned for consultation.
The statement read, 'The Honourable Minister of Foreign Affairs, Ambassador Aminu Wali, has summoned for consultation, Nigeria's senior diplomats on tour of duty in South Africa. These are the Acting High Commissioner in Pretoria, Ambassador Martin Cobham, and the Deputy High Commissioner in Johannesburg, Ambassador Uche Ajulu-Okeke.
'The invitation is in connection with the ongoing xenophobia in South Africa targeting foreigners, mainly African migrants.
'It will be recalled that the current spate of attacks began about three weeks ago, and have so far claimed some seven lives, destruction of property and created fear and uncertainty in the minds of African migrants in the former apartheid enclave.
'The South African President, Mr. Jacob Zuma, has condemned the attacks in a statement presented to the South African National Assembly. Ditto for the Zulu Monarch, Goodwill Zwelithini, whose alleged inciting comment provoked the attacks. Well meaning South Africans have also organised peace marches against xenophobia.' Agency report