PDP Will Be The Stronger Opposition Party—Gulak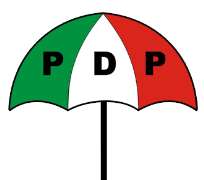 The former special adviser to President Goodkuck Ebele Jonathan on political matters, Barr Ahmed Gulak revealed that the people's Democratic Party, PDP, is recouping to come out strong than ever before.
According to him the party has been saddled with crisis of confidence that led to many members defecting to other parties, assures that PDP is going to come out strong from her battle shelf to be a true opposition party in order to checkmate the ruling party.
'PDP at the national level is a House divide against itself, even at the state level the party has been experiencing a lot of decline in her activities, defection here and there as result of high impunity from our party official especially our state Governors who are bend in deciding who becomes what and who is to be what' Gulak said
Ahmed also berates Senator Jonathan Zwingina,former minister of health (state),Dr Idi Hong and Senator Ahmed Barata of been unfair to PDP, the party that made them popular in the eye of the world, gave them what life can offer, regarding them to be politicians without ideology and principles.
For him PDP is a home and there can not be any place that is better than PDP, defecting to any political party is the worst thing he can ever
'I eat PDP, I walk PDP, I see PDP, through out my life is PDP so where do you want me to go. PDP have given so much at this time I can not leave my party that I love so much. I am in PDP and I remain in PDP'. Ahmed said
'Zwingina and friends are a disappointment to PDP,because of how the party is having an in-house problem and forget easily what the party had done to each one of them, their defection to APC it shows they not true democrat working only to their selfish interest not the interest of common people'. Gulak added
According to Gulak Good luck Johnathan should be celebrated not APC,that Jonathan is the heroe of democracy who gave up his personal ambitions in the interest of the unity and peace of Nigeria.