Ginis Cyber Cafe' Jikwoyi: A Food For Thought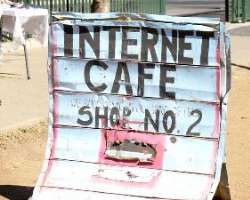 One of the important policies of the present administration is to curb poverty. Poverty is rampant in Nigeria. From all angles, from crannies and corners, poverty and unemployment are ravaging the population. Poverty happens to be on us because the government has been unable to provide employment. Many citizens who had hoped to get white collar jobs after graduation are disillusioned. From the beginning they have been attuned to easy comfort and everyone including a secondary school certificate holder wants a job in an air conditioned office.The reality is that if you do not work, you will not eat.
To this end, the Obasanjo administration came up with National Poverty Eradication Program (NAPEP) under the leadership of Dr. Magnus Kpakol. The question that has been asked is that has the Nnational Poverty Eradication Programme reached out and affected the beneficiates in their own cadre? Has it penetrated the target group? Let us look at Gates Integrated and Network Installations Services (G.I.N.I.S) Cyber Café Business Centre in Jikwoyi Abuja. This is a business centre that has provided sundry services like ordinary typing, compugraphy, corral designs, sending of messages, compilation of academic projects and all what takes place in a business center. You can browse and reach to any website you want. Additionally the staff who comprise of the boss and chief-executive of Gates Integrated and Network installations Service Mr Eze Nmeregine are excellent. Mr Nmeregine is in-charge of field work installations, construction of Satellite dishes in homes and residential abodes. There is the bulk purchase of computer equipment machines, television stations, camera-visual and moving, high tech beaming watts,laptops e.t.c.
One thing with Gates Integrated and Network Installation Services is that they are in control of their transportation, logistics and communication facilities.
Therefore anytime their services are needed, within minutes or hours depending on distance and location they are available in time, if you can communicate to them meaningfully and reasonably. Another magnificent diligent hardworking eagle-eye staff is Mr Bright Moses. He is the manager on the ground, who supervises day to day activities. G.I.N.I.S Cyber café business Centre is adjacent Aso saving limited along Nyanya-Kpeyegi- Karshi road in Federal capital Territory. It is a full day service here and if by any means, the Power Holding Corporation of Nigeria (PHCN) fails, there is a stand by generator that is instantly switched.
Another staff who attends to customers who come to G.I.N I.S Cyber café business Jikwoyi is beautiful Divine Okpara, who is sharp, intelligent and trendy in attitude, manner and characterization.
Beside this neat staff is delectable Mrs. Elizabeth Iyonos who is composed disciplined and mature at work and
Vibrant Blessing Amazu, the fair amazon of this G.I.N.I.S cyber is another charming damsel adding excitement to their small scale business that is attracting youth applying for admission and job on line here. In thirty minutes they are able to type your eight page handwritten scripts.
I have decided to review this business center in Jikwoyi, when I was in the Federal Capital city for my business transaction in a Federal Ministry. They were able to efficiently, effectively attend to my typing and printing needs promptly.
Having observed their articulate ways of doing things orderly and in polite manner, enhancing customer relationships with bundle of etiquette and giving job to a few. Has National Poverty Eradication programme visited this place and given it assistance? That is the question.
Having observed their general discipline and having admired their appeal to sense of duty and service has any bank or some Non- Governmental Organization or the Millennium Development Goals officials visited this place and given them supportive and motivational words. Having observed what they have placed on board and walls of the office that let no one try 419 or yahoo like going against the rules of the Economic and Financial Crimes Commission, has any agency given them and ward? Or a commendation letter to the cyber café for operating within rule of law?
G.I.N.I.S cyber cafe business center deserves an appropriate commendation for keeping to standards. It needs moral support because it has material and human resources to reduce tension, poverty and unemployment. The patience, the tolerance, the politeness, the etiquette adequacies and the humility of working staff are additional qualities of this articulate centre which will be discussed another day, another time.
Meanwhile it is a thing of joy to see young men and women come together and initiate ideas that generate employment and add positively to the Government's programme of National Poverty Eradication (N.A.P.E.P). This is food for thought for authorities concerned.
Emmanuel Risco is a former Journalist turned
Publisher and Business man who writes from No.7, 2nd Floor,
Disa plaza, Dandal way,
Maiduguri metropolis, Borno state
He can be reached on E-mail [email protected]