Obiano's Popularity Soars Despite Calumny Campaign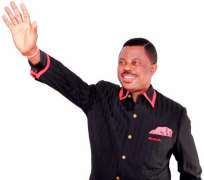 As he braces up to present his scorecard in the past one year to Ndi Anambra, Governor Willie Obiano must indeed be one happy man. He has driven himself and his team to unbearable limits in search of results and now, he has a Bounteous Harvest in his hands and a very rosy tomorrow beckons.
Obiano's contentment may not come from the usual satisfaction that a leader gets after giving his all in the service of his people. It comes from knowing that the people he has pushed himself beyond tolerance to serve in the past 365 days are indeed appreciative of his efforts. Once in every while, a cruel twist of fate could turn a hero to a villain in a situation similar to what the peerless poet, Christopher Okigbo might call the "error of the rendering." But Obiano's story is different. He has the support and approval of Ndi Anambra.
While it is common knowledge that the governor has hypnotized the people with the magic of his performance since he took over the reins of leadership, there have been pockets of organized and open endorsement of his administration by many different groups but none compares to what happened last Saturday. In what qualifies as an epochal departure from its traditional reticence, the Onitsha ecclesiastical province of the Catholic Church awarded him the exulted title of Duke. In one fearsome bust of energy, Governor Obiano has swept Ndi Anambra and the church along, drowning the irritating voices of a few opposition elements who wish that the sun never rises anywhere else but their own neck of the wood.
But the governor seemed to have been taken unawares by the weighty honour the church conferred on him and his beautiful wife, Ebelechukwu. When he stood up to give his acceptance speech, Governor Obiano could not easily find the words to convey his gratitude. The honour had struck him speechless. He and his wife had just become the first Duke and Duchess of the Catholic Laity Council of Nigeria, Onitsha Archdiocese, in the body's forty-year history.
The governor was to repossess his tongue moments later when the import of what had just happened settled on him. Addressing journalists after the Holy Mass that marked the ceremony, he said, "This is a very important honour. This is the first time they are conferring this title on anyone since the council came into existence 40 years age. So, you can see how important it is. We are not taking it lightly. It will spur us to do even more."
Coming on the heels of a well-choreographed campaign of calumny against him by some political figures in the state, this honour subsumes every ill-digested comment that has been directed at him in the media. Again, coming in a week when some very popular columnists devoted several inches of their columns to a thinly veiled attempt to blame him for a troubling documentary on his predecessor, this honour is a massive assurance that Ndi Anambra are solidly behind their governor. The reason is simple; there is no higher crown than the one conferred by the church.
What is even more fascinating about Obiano's spanking new title is that the church is not alone in this accolade. Barely a fortnight ago, the Federation of Accounts Sub-Committee on International Public Sector Accounting System (IPSAS) had ranked Obiano's Anambra as the most transparent and accountable state in Nigeria with an impressive score of 80 percent for complying with all the set standards in public sector accounting.
In a letter communicating this feat to the governor, the consultant on IPSAS, Mr. Emmanuel Obioma Onyekwere distilled its significance as follows: (a)"Anambra State Government has demonstrated Accountability and Transparency in pubic governance by complying with the global best practices. (b) The development partners and other international organizations would like to do business with Anambra State," he explained. In a country where the public sector is notorious for lack of transparency and accountability, Obiano looks set to push the envelope for change. In a wordless advise, the technocrat and stone-cold administrator is telling his compatriots; "yes! It can be done!"
For many of his admirers, these two honours couldn't have come at a better time. Coming barely a week to his first anniversary, the honours are a worthy addition to governor Obiano's growing legend and his breathtaking scorecard. They will also no doubt serve as a check to his opponents who are sponsoring tendentious articles in the media against him. In the past one week alone, notable columnists in some leading newspapers have lent their names to this spurious campaign despite the fact that the Initiative for Change Organization (ICO), an Enugu based democracy watch group had raised the red flag on the heavily funded campaign after intercepting an advertorial titled "Gov. Obiano, Wolf in Sheep's Clothing …Mr. President Beware! Before this audacious effort, Obiano and his wife had been the subject of relentless attacks by social media gangsters who find fulfillment in character assassination. Hirelings of the old political order who are astonished by the dazzling rays of a new star have all found morbid satisfaction in taking aims at Governor Obiano and his wife with little if any inducement.
The puzzle is that none of these famous columnists who now find it easy to point a finger at Governor Obiano for the outrageous documentary against his predecessor ever batted an eyelid on the absurdity of the sponsored social media attacks which eventually came to a head with the publication of the advertorial seeking to pitch President Jonathan against Governor Obiano in the Vanguard, Tuesday, February 24, 2015 with the title stated above. It may well be that the noxious advertorial was not visible to them. But it may also be a one of the rare occasions when the media shows a certain embarrassing vulnerability that hints on a thinly veiled partisanship.
The truth though is that partisanship is not entirely bad. The only trouble is that there are occasions that demand a closer look at the body of evidence before certain dangerous conclusions are drawn. The most worrisome of these conclusions is not only the pointed accusation leveled against Obiano but the attempt by one of the columnists to argue that Governor Obiano is not only behind the Documentary but also surreptitiously fueling an anti-Jonathan campaign. Haba! How mischievous can this campaign get?
Now, let's look at it this way; is it really plausible that the same governor who as the BoT Chairman and National Leader of APGA, led the party to adopt President Jonathan as its candidate in the coming elections can sponsor a clandestine campaign against him? Is it possible that Governor Obiano who was the first governor to mount a public campaign for the second term bid of President Jonathan can indeed be working against him? Is it possible that Governor Obiano who found eloquence when campaigning for President Jonathan at the event tagged Ozoemezina, an otherwise solemn memorial in honour of fallen Biafran heroes can Nicodemusly take a stab at him under the cover of darkness? Your guess is as good as mine.
The hard fact is that I find it hard to blame the attempt to fuel this misbegotten campaign on any possibility of gullibility on the part of these respected columnists. When strange political wind blows as is the case at the moment, strange things usually happen and not even the prophets and the poets are spared. And when they are caught in the vortex of counter claims and charges, they speak in tongues.
James Eze writes from Amawbia
Willie Is Working (WIW)
C/O: Engr Ifeanyi Aniagoh - The Executive Assistant to the Governor on (Social) Media + 234 803 739 1543
Read Willie's Blog @ www.willieisworking.blogspot.com
Like Our FaceBook Page @ www.fb.com/wiwggc
View Our Online Album @ https://www.flickr.com/photos/willieisworking
Join Our Yahoo Group @ https://groups.yahoo.com/group/MeetObiano
Follow us on Twitter @WillieIsWorking on www.twitter.com/WillieIsWorking
WIW - A Peek Into the Days of Chief Willie Obiano in the Government House