February 14 election remains valid -Jega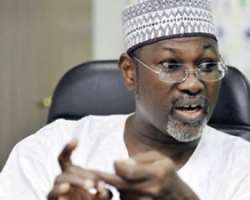 The Independent National Electoral CommissiThebes stated that the February 14 presidential election is still valid, thereby dismissing insinuations in some quarters suggesting that the election might be shifted.
Chairman of the Commission, Prof. Attahiru Jega, said this on Friday  at a workshop organized by INEC on 'Mitigation of Violence In Election' at the Transcorps Hotel in Abuja.
According to Jega, at no time had the commission sat down to review the date of the election in spite of the challenges related to distribution of the PVCs.
He nevertheless said that the commission was working hard at ensuring that all registered Nigerians get their PVCs.
He noted that the commission has long released the election timetable for February 14 about a year ago and has been vigorously working to meet with the date.
Responding to the call for the postponement of the election by one month by the National Security Adviser, Col. Sambo Dasuki, Jega said,'I don't want to comment on this. Like everybody we read it in the papers. Many things have been attributed to me which I know I didn't say.
'So, until I can confirm and get clarification, it will be premature for me at this public event to start saying anything.
'In any case anything I communicate is the commissions position and the commission has not discussed this matter and taken a position on it. So I want to be more patient on this. I cannot comment on this for now.'
The INEC boss said it would be wrong to also blame the commission for the refusal of some people to collect their PVCs.
He said that PVCs  had been produced and sent to various collection points across the country.
He said the commission has continued to produce PVCs to meet the 68 million registered voters already captured and certified by the commission to be genuine even as it revealed that about 4million cards were received by the commission on Thursday.
Jega also identified some trouble spots where he said all should take precautions. The states are Edo, Rivers, FCT, Bauchi, Plateau and Imo.
Jega reiterated the position of INEC that the election will be conducted with only the PVCS which has been tested and proved to be valid for elections that would stand the test of time on matters of integrity of the ballot.
'Therefore, anyone calling for the use of the temporary voter cards in the February elections are only drawing us back,' Jega stated.