MOSOP ABOLISHED
MOSOP Abolished: Founded by Late Ken Saro-Wiwa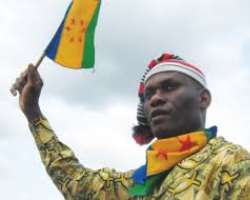 President of Ogoni Nation
Ogoni has established an Independent Civil Society Commission (ICSC) to be publicly funded and accountable to the people.
In a message to the Ogoni Self-Government Inauguration Thanksgiving Service held at Teyork, near Bori on Sunday, January 11, 2015, Ogoni President Goodluck Diigbo said a unique role for the Commission is to promote public debate about what is going on.
Diigbo said it is impartial and protected from political pressure, through an independent legislative status and headed by an executive director.
The establishment of the Commission followed the formal dissolution of the Movement for the Survival of the Ogoni People (MOSOP).
MOSOP was founded by Late Ken Saro-Wiwa as an umbrella organization over 20 years ago to struggle for Ogoni Political Autonomy, otherwise called Self-Government.
President Diigbo who was sworn-in on January 4, 2015 as the first elected leader of the Self-Government, then had the responsibility to set up affiliate members, because MOSOP had no direct membership.
The president has approved the appointment of the President of the Federation of Ogoni Women Association, Hon. Precilia Nununee as the Executive Director of the Ogoni Civil Society Commission.
The Deputy Director is Rt. Rev. Monday Lenee, Pastor Peter Adooh is the Administrator and Hon. John Deebom is the Secretary.
The Commission comprises of representative members. They are:
President of Council of Ogoni Traditional Rulers Association (COTRA)
President of National Youth Council of Ogoni People (NYCOP)
President of Federation of Ogoni Women Association (FOWA)
President of Council of Ogoni Churches (COC)
President of Ogoni Teachers Union (OTU)
President of National Union of Ogoni Students (NUOS)
President of Council of Ogoni Professionals (COP)
President of Ogoni Students Association (OSU)
President of League of Ogoni People in USA (LOOP – USA)
President of Ogoni Community in United Kingdom (OCA-UK)
President of Ogoni Farmers' Association (OFA)
President of Ogoni Technical Association (OGONITA)
President of Ogoni Artists' Association
Other civil society organizations that may be approved by the Commission.
From now on, the Ogoni Central Indigenous Authority, OCIA speaks on behalf of the people of Ogoni.
Pastor Peter Adooh
Administrator, Ogoni Independent Civil Society Commission (ICSC)