Yaya Toure hails Eagles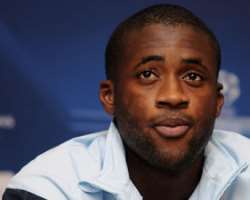 African Footballer of the Year, Yaya Toure, who captained the Elephants of Ivory Coast against the Super Eagles 'B' on Sunday, praised the players for their performance. The match was played in Abu Dhabi.
The Manchester City midfielder said he was shocked at the performance of the Eagles made up of entirely Nigerian league players against his Ivorian side preparing for the 2015 Africa Cup of Nations.
Toure who spoke to the media and later to Dan Amokachi, who coached the team, said he was so impressed that he imagined that the Nigerians were not a wholly selected squad from the local league. He suggested that there were also foreign-based professionals who were not so well known. Reports from the Middle East country stated that it took Amokachi's explanation to prove to him that apart from Steve Ukoh, who plays in Switzerland and who had his first cap for the Eagles with that game, all the other players were from the Nigerian Premier League.
Toure said, 'At a point I had to tell my teammates to slow down the pace of the game and when we scored we could not wait for the final whistle, because the boys were all over us. They must be commended for their confident display.'
An ex-international, Emmanuel Babayaro, told theNews Agency of Nigeria that he was also impressed with the team's performance, adding that he was happy that the players communicated well and played as a team.
'The team deserves to be commended for holding their own against a more experienced Ivorian side.
'I can say they have indeed won support from football fans who hitherto expressed disappointment over the Super Eagles' performance, especially during the Africa Cup of Nations qualifiers,' he said.
Solomon Kwambe, who starred for the Eagles in the game, said they gave a good account of themselves and would not have lost the game but for a defensive error.
He said, 'It was a good and tough game for us, though we lost. We did not deserve to lose the game because we played well according to instruction, but just a little bit of loss of concentration cost us the game.'
He then assured Nigerians that the team would do better in their next friendly match against Sudan on Saturday in Dubai.
'We have one more game here and that is against Sudan. We will give our best and do better than we did against Cote d'Ivoire and go for victory.' Agency report