Political parties to get voter register Tuesday -INEC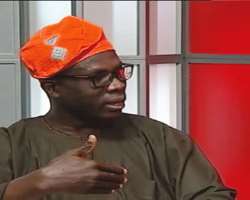 The Independent National Electoral Commission has said it will give the register of voters to all the registered political parties on Tuesday.
The electoral commission said the handing over of the document to the parties would be held at its national headquarters in Abuja.
Chief Press Secretary to the chairman of INEC, Mr. Kayode Idowu, who spoke in a telephone interview with one of our correspondents on Sunday, said the register might also be made public to Nigerians.
He said, 'The register will be given to all political parties in Abuja on Tuesday. We may also publish it on our website same day. It is public document.
'Political parties are also free to make it available to their supporters or members.'
On the ongoing distribution of Permanent Voter's Card in Borno State, Idowu said the exercise was free from crisis.
He also said that displaced persons in different camps were being accommodated and given their PVCs.
'The cards are being distributed and I can also tell you that those in camps are getting the card as well. The governor even commended the commission for doing a good job in the state,' he added.
According to the timetable released by the INEC, Section 20 of the Electoral Act, 2010 (as amended) provides that the register of voters shall be published not later than 30 days before the day of the election.
The commission had in a document released on Thursday indicated that 38.7 million Nigerians had collected their Permanent Voter Cards as of January 7, 2015 while 15,567,219 cards were said to be waiting for collection at INEC.
The North-West tops the list of PVCs collected with 12,013,961 (30.98 per cent); followed by the South- West with 6,270,736 (16.17 per cent); the South-South, 5,756,018 (14.85 per cent); the North-Central, 5,520,001 (14.24 per cent); the North-East, 4,886,499 (12.60 per cent); South-East, 4,886,499 (10.10 per cent) and the Federal Capital Territory, 411,935 (1.06 per cent).
Also, withdrawal and replacement of candidates for governorship and House of Assembly elections will close on Tuesday, January 13.
According to the timetable released by INEC, 'Section 35 of the Electoral Act, 2010 (as amended) provides for not later than 45 days before election.'
The commission had on January 1, 2015 published the particulars of governorship and House of Assembly candidates in line with the provision of the Electoral Act. Agency report