Atiku debunks return move to PDP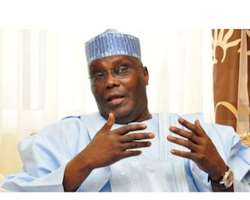 A former Vice-President and chieftain of the All Progressives Congress, Atiku Abubakar, on Saturday denied a statement made by a Peoples Democratic Party's chieftain that he might return to the PDP before the elections.
The former vice-president said this in response to reports that he was being pressured by elements within the ruling party to stage a comeback.
The PDP had said on Friday that it was wooing former members of the party, including Atiku Abubakar and Kwakwanso, who defected to the All Progressives Congress to return to the party before the next general elections.
According to the PDP National Secretary, Prof. Wale Oladipo, who stated this at a press conference in Ile-Ife, Osun State, the party had starting making moves to bring back the former members.
He said, 'The PDP has begun moves to bring back some of our former chieftains who are now in the APC. The PDP reconciliation committee set up by the National Working Committee will meet with all former members for the purpose of bringing them back before the next general elections.'
But when contacted, the Director General of the Atiku Media Office, Mallam Garba Shehu, said there was no plan by Atiku to return to the PDP.
According to him, news linking the APC chieftain to a possible return to the PDP were lies being peddled by mischief makers.
Shehu said, 'There is no iota of truth in such claims. It is not only false, it is malicious and a product of the futile imaginations of those peddling it.'
Similarly, Kwankwaso, who was one of seven PDP governors who walked out of the party's mini convention last year to protest against 'injustices' within the party, has also denied making moves to return to his former party.
Part of his grievances included the alleged high-handedness of the then Bamanga Tukur-led national executive committee.
The governor, who spoke through his Director of Press and Public Relations, Baba Dantiye, described the news of a possible return to the PDP as baseless and a clear case of desperation on the part of the PDP.
Dantiye said, 'He (Kwankwaso) is presently APC's candidate for Kano Central Senatorial District. I think it's just PDP's desperation.' Agency report