The Okoye Wives Unite For Makoko Kids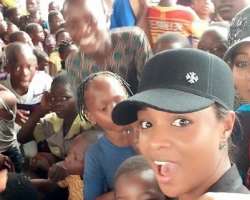 The whole community of Makoko, Yaba were in high spirits over the weekend when Kinabuti in conjunction with the wives of Peter and Paul Okoye surprised them with an early Christmas celebration.
Kinabuti team, Lola Okoye, Anita Okoye and some of their friends took gifts to the community of Makoko in Yaba, Lagos State on Saturday, December 13, 2014 at the "Floating school" in the community of fishermen and women who live on water.
The children could not hide their joy and excitement when the saw the number of foreigners who came to party with them and share gifts for Christmas with them.
It will be a day never to be forgotten in a hurry for the whole community not just the children.
Excited Anita's took to Instagram to share her heart-touching experience and as well some photos they snapped with the kids.
Her caption reads:"Hello everyone!! ..these beautiful children changed my perspective on life yesterday. I'm about to flood your timeline with the amazing experience @lolaomotayo and I had, courtesy of @kinabuti and other sponsors at the Christmas Party for the kids at Makoko"
"These children attend the floating school (in the first picture) and @kinabuti decided to organize a Christmas party for the kids. It was a fun and life-altering experience for me as I learnt not to sweat the little stuff and be grateful for all I have. It shows how genuinely happy people can be in any situation. I connected with a lot of these children and cannot wait to go back to Makoko."