2015: Tinubu is controlling Buhari – says PDP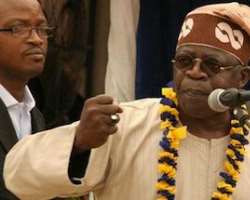 The Peoples Democratic Party (PDP) has re-christened the All Progressives Congress, APC as Asiwaju Personal Consortium and at the same time chided the party's presidential torch-bearer, General Muhammadu Buhari of compromising his principles by submitting his powers to nominate a vice-president to Tinubu.
PDP National Publicity Secretary, Olisa Metuh, said in a statement on Sunday that Buhari has failed in his first assignment of choosing a running mate.
'This development clearly confirms that General Buhari is not in charge, may have been compromised and willing to be appropriated. In fact, patriotic Nigerians from across the six geo-political zones are now embarrassed that General Buhari is playing a godson to Alhaji Tinubu.
'In surrendering his prerogative of choosing his running mate, General Buhari has confirmed that he is being appropriated and compromised to serve a personal and narrow group interest of a cabal on whose ticket he emerged as the presidential candidate.
'This APC cabal under the command of Tinubu tampered with all the rules of their party to achieve their selfish agenda of planting surrogates in all strategic positions to enable Tinubu expand his economic and political frontiers the way and manner he did in Lagos state.
'Therefore a vote for General Buhari in the forthcoming presidential election is clearly a vote for Tinubu, his political and economic interests.
'Indeed, the possible calculation of this cabal, if they ever get to power, is to choke-up General Buhari and ultimately frustrate him out of office thereby allowing Tinubu to have total control of the economic and political interests of the nation.
'Therefore the question the citizens want answered remains, 'is Tinubu the face of the so-called change the APC wants to bequeath to Nigerians?
'The APC and its leadership have clearly shown that to them, national interest is secondary to Asiwaju Bola Tinubu's business interests, little wonder many are now calling APC ASIWAJU'S PERSONAL CONSORTIUM.'
And as if envisaging the taunting by its rival PDP, the All Progressives Congress in a statement earlier today dismissed the issue raised by the PDP, saying that the choice of a running mate is not the exclusive preserve of Tinubu, but one that will be subjected to the best democratic ideal, just like the way it picked its presidential candidate.
In a statement issued in Lagos on Sunday by its National Publicity Secretary, Alhaji Lai Mohammed, the party urged Nigerians to ignore the widespread and misleading reports in the traditional and social media about the choice of the APC presidential running mate, saying the party has yet to even meet, not to talk of picking a running mate.
It described the reports that a running mate has been picked to run with the APC presidential candidate, Gen. Muhammadu Buhari, as unnecessarily sensational, downright speculative and totally misleading.
'We are using this opportunity to tell Nigerians to pray for us as we seek to pick a running mate for our presidential candidate. This is because this choice is not just for us but for all of Nigeria,' APC said
The party said everyone of the candidates who have been speculated as a running mate to Gen. Buhari is unquestionably competent to be a Vice President or even President, adding, however, that no choice has yet been made by the party.
'We appreciate the nationwide interest that the choice of our presidential candidate and his running mate has generated. It is a mark of the confidence that Nigerians repose in us. We assure that we will not disappoint our compatriots who have seen our party as the agent of the change they so much crave,' it said.