Matrimonial crisis: Jim Nwobodo refuses burial of son in his compound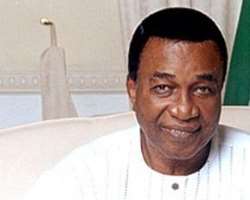 The disagreement  between former governor of old Anambra State, Chief Jim Nwobodo and his deceased first son, Dr Ifeanyi Nwobodo has refused to heal even in death.
Nwobodo refused the burial of his son yesterday in his compound in Amechi, Awkunanaw,  Enugu South where Ifeanyi lived until his death last month.
Ifeanyi died recently of cancer but his burial slated yesterday ran into a hitch following a disagreement between Nwobodo and Ifeanyi's brothers on where the first son of the family should be buried.
Ifeanyi was the first son of Jim's first wife, Mukosolu, said to have separated from Jim long ago.
While Nwobodo had insisted that Ifeanyi's remains would not be buried in his compound, his other sons and his kinsmen vowed that he would be buried in his father's compound being the first born of the family.
Jim and Mukosolu were said to have had three sons and a daughter before their separation  .
Nwobodo was said to have reasoned that since Ifeanyi could not build a house before his death, he should be treated as a 'tenant' and therefore should not be buried in his compound.
Nwobodo had within two weeks erected a bungalow building opposite his residence for Ifeanyi and hired labourers who dug and beautified the grave yard in the new compound.
However, trouble had started when some members of the family went to the mortuary yesterday morning to pick Ifeanyi's remains for the funeral service and  other burial formalities  but were told  by authorities of St Matins Hospital Morgue  where it was kept that 'some family members had removed it'.
It was learnt that some 'unknown' persons, apparently acting out of annoyance that the remains were not approved for burial in Jim's compound, removed the corpse from  where it was kept.
This delayed for several hours yesterday the funeral service scheduled for 11 am at St Matthew Anglican Church, Amechi, prompting Nwobodo, his wife Pat, Deputy Senate President, Ike Ekweremadu, National Chairman of APGA, Chief Victor Umeh among several others to relocate to Jim's house, while the clergymen led by the Arcbishop of Enugu Province of the Anglican Communion, His Grace Rt. Rev Emmanuel Chukwuman, retired to the church's parsonage.
Confusion had reigned as several dignitaries who gathered for the occasion started leaving in anger.
Jim Nwobodo, accompanied by his  wife Pat and other relations, Deputy Senate President, Ekweremadu,  Umeh and several others  later held a meeting with the church leaders at the Church's Parsonage, where it was resolved to bury Ifeanyi's remains at the church's premises.
The church also promised to intervene in the problem in the family after the burial.
However, despite the plea by the church leaders, Ekweremadu, Umeh among others, friends of Ifeanyi and other relatives vehemently refused that the remains would be buried outside his father's compound.
Said one of the relatives: 'He was neither a Priest nor a church worker that he should be buried in the church premises. Jim either allows him to be buried in his compound or nothing'.
Feeling dejected over the development, the church leaders had also left in anger, prompting Arcbishop Chukwuma to describe the development as a 'disgrace'.
As at 4.20pm yesterday, there was no indication that the corpse would be buried as no accord could be reached.
Those at the burial included Ambassador Fidelia Njeze; former Minister Frank Nweke (Jnr), Chief Nnia Nwodo, former governorship candidate, Ugochukwu Agballah, Senator Gilbert Nnaji, Hon Offor Chukwuegbo and National Chairman of UPP, Chief Chekwas Okorie. The Guardian