Comedian, Gbenga Adeyinka Worries over Height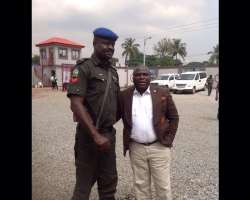 If height were to be a criteria in some profession, maybe the likes of comedian, Gbenga Adeyinka, would not be recognized as he recently ran into an old friend who was taller than him.
Gbenga ran into an old Mopol friend of his at an event held in Lagos and after exchanging pleasantries, stylishly measured his height with his friend while striking a pose for a picture.
In his caption, "Ran into my friend #Tallest Mopol @thisevent. Been a while. I think they should make legislature that this height is a basic requirement to join any force in Nigeria."
In a comic response to friends who mock his height, the rib cracking comedian defended himself by saying he is not as short as people think.
ope4tboy See you @gbengaadeyinka1st shortest man
aimakhutoyin @gbengaadeyinka1st lol egbon mi u r short haba
gbengaadeyinka1st @ope4tboy @aimakhutoyin if you see the guy, you go know say I no short at all
ope4tboy @gbengaadeyinka1st sir u no even reach d shoulder?? is just like David n Goliath hahah. @aimakhutoyin kfb sis