Emeritus Ali Mazuri retires to the ancestral home, fare thee well!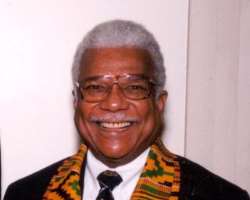 On 13th October 2014 Ali Al'amin Mazrui passed on at the elderly age of 81 in the United States. News of his death came with shockwaves in the intellectual community throughout the world and particularly in his birth continent Africa and the United States where he taught at Binghamton University, New York. For many Africans Ali Mazrui represented the wisdom of the village old man reclined under a tree while telling stories to children clustered around him. Unlike many other elderly village men Ali Mazrui did not prefer the folkloric but focused instead on the historical. Not unusually, history and perspectives of it do not come without polemics.
Yet, and even as he was laid to rest on 20th October 2014, Ali Mazrui remains a benchmark at attempts at understanding the historical context of African cultural diversity and the influences that came from the Muslim East and the Christian West in analysis of the cultural evolution of Africans. In doing so, or as is typical of most intellectuals with a fine mind, it was not difficult for him to trigger controversy and cause ripple debate in academia and amongst peers. While his trail blazing documentary titled 'The Africans: A Triple Heritage' for instance may have catapulted him to intellectual visibility it also generated a storm of controversy in Departments of African Studies amongst Africanists and students.
What Ali Mazrui attempted was to premise that Africa as it exists is the product of the indigenous, Western and Islamic influences. As a Western educated African Muslim he was himself archetypical of the triple heritage he espoused. Not that many African critics disagreed with the premise. In fact some thought it was seminal and demonstrated the complexity of African identity. It was more about his emphasis or perceived emphasis of each influence that stoked the ire. There were those who argued that he subjectively, if not selectively, downplayed the role and place of the indigenous heritage especially as he raised doubts about an authentic African way of doing things. For these critics even his acknowledgment of Western influence was half-hearted, tokenish and inadequate. They conclude that Ali Mazrui disingenuously elevated Islam of which he was a practising faithful. As Ali Mazrui never really made secret of his candid desire for Africa to foster much closer links with the Islamic world both criticisms were easy to make and hard to disabuse much as he tried.
Across the Atlantic in the United States the criticism was of a different kind albeit for the same documentary. While some dismissed it as anti-Western diatribe, Ali Mazrui was also accused of endorsing the right of Africans to acquire and own nuclear weapons. It outraged Americans rather strangely, and if they were looking for an apology they did not get one. On the contrary, Ali Mazrui admitted he wanted "black Africa to have the bomb to frighten the system as a whole". For praising then Libyan leader Muammar Gaddafi as one who might turn Arabs into global players others dismissed him as an unrepentant Islamist apologist and anti-Semitic in addition. Ironically, he had earlier deleted a description of Karl Marx as "the last of the great Jewish prophets" from the original script for same fears of being interpreted as anti-Semitic.
Ali Mazrui was never one to shy away from his convictions even when it meant speaking to power in the face or stoking controversy. Often described as a propagandist for Islam he wrote and spoke in praise of Islam and went to lengths in extolling Islamic values and virtues as a Muslim scholar. He found no contradiction between democracy and the practice of sharia law for instance. To him Muslim societies have been more ecumenical and humane than given credit for in the West, and he did not hesitate to add, however controversially, that the quality of human life is better guaranteed in an Islamic state than in a liberal democratic state.
As an African scholar he was deeply involved in the fight for his people whom he fondly described as "the people of the day before yesterday and the people of the day after tomorrow." Like many of his kind he would end up living in exile for the most part of his life as a result. Upon receiving his doctorate degree from Oxford University in 1966 he accepted professorship in Political Science at Makerere University in Uganda where he taught for some years before being forced into exile. Idi Amin is said to have offered him the position and role of Chief Adviser on International Affairs in his dictatorship, an offer aimed at turning Ali Mazrui into his Kissinger of a sort. As if declining the offer was not offensive enough Ali Mazrui took to publicly criticising Idi Amin for his despotism. It drew the line between the two men and it was Ali Mazrui who had to flee Uganda, and fled, he did to the United Sates when Kenyan universities refused to accept him.
Debate and controversy arguably defined the life and career of Ali Mazrui. Such controversy boiled over when he accused Henry Gates Jnr, author of 'Wonders of the African World' documentary of Black Orientalism, a concept Ali Mazrui had developed to refer to cultural condescension, paternalistic possessiveness and ulterior selectivity with regard to Africa and Africans. Ali Mazrui found the suggestion in the documentary that Africans played a complicit role in the slave trade outrageous. It was as if Henry Gates was providing ammunition to the West to let them off the hook. The criticism caught the attention and wrath of Wole Soyinka, the African Nobel laureate who also doubled as the mentor of Henry Gates. Soyinka's criticism of Ali Mazrui as an alienated African and what followed thereafter still palpably remains the most intense and signal debate on Africa amongst Africans and Africanist scholars, the Diaspora included. As some commentators have pointed out, if academic enquiry is about generating debate then Ali Mazrui's penchant for controversy alone stood him in good stead as a great academic and thinker.
The Kenyan born elderly African intellectual never lost an opportunity to critique leadership crisis in the continent. Besides Idi Amin he had previously taken on Milton Obote and also Arap Moi of Kenya and even the much touted Julius Nyerere of Tanzania of blessed memory. Neither did Ali Mazrui ever hesitate to flaunt his pan-African credentials in which he glorified pride. His public dress code, for instance, was never complete without his trademark scarf from the popular Ghanaian kente cloth. In one of his many books, Towards a Pax Africana, Ali Mazrui motivates the ambition for the African to be his own policeman in a broader quest for identity and dignity. At Makerere University he insisted on quoting African scholars to help encourage and develop local academia against the backdrop of using Western sources hitherto.
Many years before then when he was an undergraduate student at Manchester University in the United Kingdom he was politically conscious enough to be elected President of the African Students' Association. Such was his passion for the continent that the usually calm and collected academic reportedly lost his temper in a debate with Walter Rodney several years later when the latter accused him of being a collaborator with the African coloniser. He was hurt and took strong exception! But at the time Ali Mazrui was largely seen as a Western liberal who once wrote of "Kwame Nkrumah as the Leninist Czar". As he matured in academia he quickly became a proponent of Nkrumah's vision of African unity and would later be appointed the first Walter Rodney Distinguished Professor at the University of Guyana following Rodney's assassination and Mazrui's moral campaign to have Walter Rodney immortalised through study of his works.
Certainly, Ali Mazrui had conquered the summits of academia at the time of his death, whether that summit is of Kilimanjaro or Everest. He taught at many universities in and outside Africa, gave many public lectures across the world, debated co-equals in academia and with heads of state, and published extensively including hundreds of articles and tens of books to his credit. He was such a prolific and accomplished scholar that even those who disagreed with him did not question his acumen. As if in affirmation, he was twice nominated for a "Living Legend Award" by African organisations while Lincoln University voted him "Icon of the Twentieth Century" amidst awards of several honorary degrees from across the world. His ability to communicate ideas and influence debate beyond his professional field was not lost on Foreign Policy, a leading American journal which nominated Ali Mazrui as one of the top one hundred public intellectuals in the world.
Needless to conclude, the African elder who was so modest he never learnt to drive a car has paid his dues in full to scholarship and Africa, and while his sharp and robust contributions to intellectual debate will be missed sorely it is his time to join the ranks of African greats in the restful ancestral home yonder. Fare thee well Ali Mazrui and may mother earth be gentle on you. Rest in perpetual peace!
The writer is the International Spokesperson for Humanitas Afrika