Al-Makura denies embezzling N43.7bn Sure-P Fund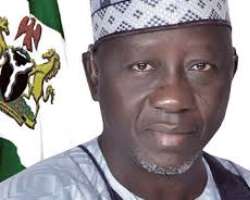 Governor Umaru Tanko Al-Makura of Nasarawa State has denied allegations that he embezzled 43.7bn SURE-P fund meant for his state.
In an exclusive interview with LEADERSHIP Sunday, he said, 'Since the implementation of SURE-P in 2012, the state accesses N200 million monthly from SURE-P and if you multiple that by 24months, the total amount that has accrued to the state is not more than N5 billion naira. So, for somebody to multiply that 10 times shows the kind of person making the allegations. How did they come about this figure? Everybody knows how we spend our SURE-P funds, the projects we have embarked on are there for everybody to see. This is meant to scandalise this administration, but we have stood our grounds on the issue of accountability and prudence and management of our resources'.
On the alleged sacking of 12,000 civil servants, the governor stated that their mind is focussed on how to handle the issue of workers which will require the prudent management of resources. He said for someone to say that they have sacked 12, 000 workers is fictitious because the entire civil servants are not more than 20, 000, so, to have sacked 12,000 would have amounted to sacking half of the workforce of the state and that is not true at all', he maintained. Leadership