Sustaining Celebrity Marriage Not Easy—Muma Gee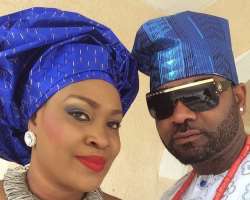 In December 2011, Nigerian singer Muma Gee, whose real name is Chief, Mrs. Gift Iyumame Eke, and her fiancé Prince Oluebube Eke tied the knots in a very glamourous wedding held in Port-Hacrcourt.
In April 2014, the couple were blessed with a beautiful set of twins, a boy and a girl – Caesar and Cleopatra.
The River State born multi-talented musician during her recent visit to Lagos State, had a brief chat with Nollywoodgists.com where she bared it all, on how she has been coping being married to her colleague in the entertainment world.
"Being a celebrity and marrying a celebrity is beautiful thing, but sweet and sour at the same time. Although its not unbearable, with patience and wisdom, you can bear the sour part of the marriage.
Its a unique thing to be married. Been in marriage is definitely different from the perceptive you used to see it while a spinster.
I'm not married to Prince Eke the actor, I'm married to Prince Eke the lovely man I met. What really matters is who the person is, not what he is or his profession.
Our love wasn't love at first sight. In fact there was no love in the first place. We just had to start up something that later grew. I'd say that it was a divine calling by God to be his wife more than just falling in love. But in all God has been faithful and keeps guiding us" she said.
It could be recalled that Muma Gee, recently announced her intention to vie for a seat in the Federal House of Representatives, on the platform of the PDP.
She said the decision to enter the political fray was borne out of a will to serve her constituency and bring development to the people.
Muma Gee intends to represent Abua/Odual and Ahoada East LGA constituency I in Rivers State.