Jonathan's second term declaration ill-timed, says APC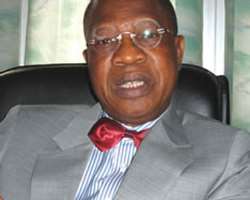 The All Progressives Congress (APC) has reacted to the decision by President Goodluck Jonathan to declare his second term ambition a day after almost 50 students were killed and about 80 injured in a suicide bombing in Potiskum, Yobe State, describing it as 'utterly insensitive and absolutely callous'.
According to a statement issued by Alhaji Lai Mohammed on Tuesday which was obtained by our correspondent the party accused the President of 'dancing on the graves of the students' as well as of all the victims of the Boko Haram insurgency in the country.
'Since this President has chosen to celebrate a national tragedy, Nigerians should also be ready to celebrate his electoral failure next year.
'Today, the three North-East states of Adamawa, Borno and Yobe are in danger of being overrun by Boko Haram and over 650,000 Nigerians are internally displaced in those states by the insurgency. Yet, President Jonathan says he puts Nigerians first. Lies have never worn a bolder face. The truth is that for President Jonathan, it is Jonathan first, Jonathan second, Jonathan third, Jonathan always!
'With the latest act of blatant hard-heartedness, Jonathan was only continuing along his well-trodden path of acting without deep introspection.
'When about 60 students were killed in the terror attack on the Federal Government College, Buni Yadi, in February 2014, President Jonathan never visited the scene to commiserate with the families of the victims. When over 80 people were killed in the first Nyanya bombing in April 2014, President Jonathan went dancing 'Azonto' in Kano less than 48 hours later. And when almost 300 girls were freshly abducted in Chibok, President Jonathan neither acted fast enough to rescue the girls nor visited the village. His Administration even denied anyone was abducted, until 19 days after!
'This President has therefore established a pattern of putting his political interest above the security and welfare of Nigerians who voted him into office. This President has trampled upon the Constitution of the Federal Republic of Nigeria, which makes the security and welfare of the citizenry the raison d'etre of the government's existence.
'It is time for Nigerians to respond in kind by trampling on his political ambition and sending him back to Otuoke.' The party queried the logic behind the Safe Schools Initiative of the Federal Government when over 70 students were killed and more than 100 maimed within a week in two separate attacks targetting a religious procession and schools in Potiskum alone. 'The Safe Schools Initiative will remain a mere tokenism until the fundamental problem of insurgency, which has claimed thousands of lives, is conclusively addressed. Mr. President, what Nigerians want is not an isolated Safe Schools Initiative, but a Safe Nigeria Initiative,' the part said.