Etisalat Connects With Subscribers At Abuja Customer Forum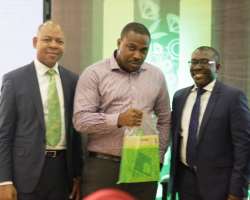 Abuja, Nigeria: October 2014: Nigeria's most innovative telecommunications company, Etisalat Nigeria, held its first ever Customer Forum for business customers in Abuja last week as it continues to solidify its relationship with subscribers across the country.

The forum enables Etisalat to track performance on customer satisfaction by soliciting genuine feedback from customers on its service delivery and offerings.

In his opening remarks, Director Business Segment at Etisalat Nigeria, Lucas Dada, revealed that Etisalat Customer Forum has successfully brought the network closer to its customers. "We are proud to describe Etisalat as a listening brand. We believe that a forum of this sort is an important way of showing our subscribers that we value their opinion."

He added that "At Etisalat, we recognise the importance of small and large scale businesses to economic development therefore the need to enhance their capacity through our product offerings cannot be over emphasized.," Dada disclosed.

IT and Communications expert, Deji Lepe, who attended the Customer Forum at Abuja, expressed delight at Etisalat's unwavering commitment to customer satisfaction. "Such devotion to customers is rare in Nigeria" Lepe noted. "My company had tried all the other networks before switching to Etisalat and I must confess that we always get value for every kobo spent on the network," he pointed out.

Lepe also explained that being on the EasyBusiness Closed User Group (CUG) subscription, a package designed by Etisalat for SMEs in Nigeria, has improved communication among members of his staff. "We no longer have to worry about spending a fortune on communication; with the Easybusiness CUG lines my staff can call each other for free." he concluded.

Subscribers who attended the Forum smiled home with a variety of gifts including mobile phone devices, recharge cards, power banks, MiFi devices, USB drives and other branded items.

The next Etisalat Customer Forum is scheduled to hold in October 2014.

About Etisalat
In just 5 years of operations, Etisalat Nigeria has become a major industry player with a growing subscriber base of over 19 million in a highly competitive market. Its portfolio of voice and data-centric products include – easy starter, easycliq, easybusiness, Easyflex and easyblaze; all tailor-made to meet the needs of its customers.

Etisalat Nigeria is one of the 19 operations of the Etisalat Group that spans across Africa, Middle East and Asia serving over 182 million subscribers; and it is committed to delivering innovative and quality services to its growing subscribers.