FG to buy 2 locomotives for N1.1bn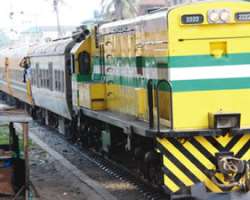 The Federal Executive Council on Wednesday approved N1.1bn for the purchase of two standard gauge locomotives.
The locomotives are meant for the new standard gauge rail lines being constructed across the country.
This was one of the resolutions reached at the weekly FEC meeting presided over by President Goodluck Jonathan.
The ministers of Information, Mr. Labaran Maku; Transport, Senator Idris Umar; and Health, Prof. Onyebuchi Chukwu, briefed State House correspondents on the outcome of the meeting.
Maku said the contract included the design, manufacture and commissioning of the two diesel locomotives with built in power packs and standard gauge 1,435mm for the Nigerian Railway Corporation.
He said the contract was awarded to Messrs CNR Darling Locomotives and Rolling Stock Limited, and CCECC Nigeria Limited, with a delivery period of 10 months.
Umar said the two locomotives were to be used for mass transport services on the Abuja-Kaduna standard gauge rail line, which is expected to be completed by the end of this year.
'The scope of work include the design and manufacturing of two diesel electric locomotives, with a capacity of 2,800 kilowatts for standard gauge tracks; training of 30 personnel of the Nigerian Railway Corporation on operation and maintenance of the locomotives; commissioning and test running in Nigeria as well as one year maintenance and technical support with two resident technicians,' he said.
Umar said the government was committed to the revival of the NRC and as such, it was working assiduously to see the completion of the Abuja-Kaduna standard gauge line.
'This is the first batch of the rolling stock that we are acquiring; specifically, the locomotives to be used for the transportation of passengers and indeed freight from Abuja to Kaduna and vice versa,' he added.
He said more of such locomotives would be ordered in 2015 and beyond, adding that the government was also working to ensure the entrenchment of a modern railway system.
He added, 'We are also working to see to the completion of the rehabilitation of the narrow gauge lines so as to have complementary services.
'In the long run when we achieve total development of the standard gauge, the narrow gauge will be dedicated mainly for freight; but as it is, we have to continue to work hand-in-hand for both gauges to be operational until such a time when Nigeria will attain that level where we have in place the standard gauge rail tracks and then the rail system, we can now dedicate the standard gauge lines for freight; that is, for carriage of goods.'