DISABLED PROTEST LACK OF SEATS AT FIFA WORLD CUP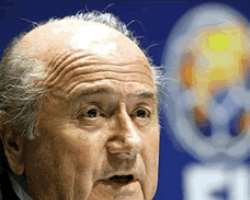 South African Disability Alliance (SADA) members burnt tyres at the South African Football Association House on Thursday in protest lack of accessibility to 2010 World Cup stadia by people with disabilities.
Disabled people demonstrated outside the Soccer City Stadium, background, in Johannesburg on Thursday to protest the non-amenities provided for them at host city stadia during the FIFA World Cup soccer tournament that gets under way in June.
More than 50 deaf, blind and wheelchair-bound protestors descended on the South African Football Association on Thursday to complain at the lack of disabled seats and access at the upcoming FIFA World Cup. Chanting slogans and carrying banners that read: "The deaf want to be heard" and "No seats for us", SADA voiced its discontent at the way it believes members are being ignored by the organisers of the World Cup.
Local Organising Committee CEO, Danny Jordaan, came out of SAFA House to try way-lay their concerns. However, the protestors said that the main problem had been the lack of consultation with them by the local organisers. They set light to four wheelchair tyres. SADA executive, Ari Seirlis, said the the alliance was burning tyres to indicate the pains of the disabled at not being able to attend any of the 2010 World Cup matches.