US sends medical experts to study Nigeria's strategy on Ebola containment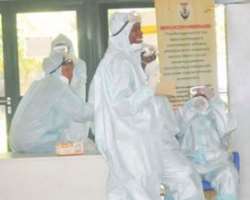 Stunned by the entrance of the Ebola Virus Disease, EVD, into America, the United States' Center for Disease Control and Prevention has dispatched its personnel to study how Nigeria contained the killer disease.
The US reported on Tuesday that it has discovered a case of EVD in Dallas, Texas, but its health officialssaid 'the crisis is under control and the public has nothing to fear.'
A statement released by US CDC Director Tom Frieden said 'it's clear the nation needs a quick and thorough response to its first Ebola patient'
He said although Nigeria was not completely out of the woods, 'their extensive response to a single case of Ebola shows that control is possible with rapid, focused interventions.' Apart from Nigeria, the US will also visit Senegal to study its model.
Frieden said 'the best practices in Nigeria and Senegal suggest the U.S. should monitor all individuals who may have been exposed to Ebola and establish a dedicated management and response system.'
Senegal has had no new reported cases of Ebola since Sept. 18 while Nigeria has not reported new ones since August 31,
US health officials are expected in Nigeria which it claimed had the best practices in combating Ebola Virus disease which entered into Nigeria through Liberian born American citizen Mr. Patrick Sawyer whose index case was reported on July 20, 2014. Nigeria is expected to officially announce today that the remaining two potential Ebola patients will exit the 21-day observation period.
According to US CDC, 'Nigeria's first reported case of Ebola surfaced July 20, when Patrick Sawyer landed in Lagos from Liberia and exposed 72 other passengers to the virus. Nigeria's Health officials quickly issued notifications and tracked everybody who may have been in contact with Sawyer.
'Nigeria also established an Ebola Incident Management Center to handle the potential outbreak and developed a staffing plan that executed a social mobilization strategy that reached more than 26,000 households of people living around the contacts of Ebola patients,'
The deadly virus has killed more than 3,000 people in Sierra Leone, Guinea and Liberia in the largest outbreak ever recorded. - Vanguard.