IMELDA MARCOS BIDS FOR SEAT AS PHILIPPINE RACE BEGINS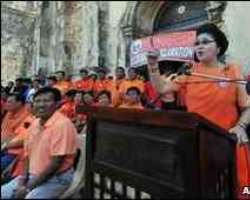 Imelda Marcos's late husband ruled the Philippines for two decades
Former Philippine first lady Imelda Marcos has launched her campaign for a seat in parliament, as the country's congressional race formally began.
The 80-year-old widow of Ferdinand Marcos is seeking a lower house seat in polls to be held on 10 May.
Mrs Marcos, who lost a presidential bid in 1992, said she was running to "uphold political integrity and the truth".
A host of other high-profile candidates are also running for seats in congress.
Both boxing star Manny Pacquiao and the country's current leader, President Gloria Arroyo, are standing for election.
According to the constitution, Mrs Arroyo must step down as president. Her decision to contest a congressional seat has worried critics who accuse her of seeking the powerful position of Speaker as a way of retaining power.
'Serve with no end'
Friday signalled the start of the 45-day campaign period for the congressional and local elections. Nearly 18,000 seats across the country will be contested.
The polls will be held on the same day as the presidential election, for which campaigning began in February.
Imelda Marcos is running for a lower house seat in Ilocos Norte in the northern Philippines, her family stronghold. The incumbent, her son Ferdinand Marcos Jr, is seeking a senate seat and her eldest daughter is running for provincial governor.
Her late husband, Ferdinand Marcos, was ousted by popular protests in 1986 after more than 20 years of authoritarian rule, including a decade of martial law. He was accused of stealing billions of dollars in state funds during his time in office.
Mrs Marcos returned to the Philippines in 1991 and was later sentenced to nine years in jail for corruption, but the case against her was overturned.
Mrs Marcos said that she wanted to improve living conditions in the country's towns and cities.
"I am running for congress, but my real ambition is not just to serve, but to serve with no end and to love with no end," the former first lady – once renowned for her huge collection of shoes – told journalists.
Meanwhile, a police spokesman warned that now the campaign was under way, the potential for violence was higher.