'With unity, we can conquer anything' – Says Jonathan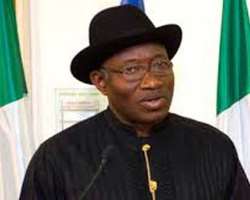 President Goodluck Jonathan has urged Nigerians to unite against the country's adversaries, adding that if Nigerians are united, there is nothing 'we cannot conquer.'
Speaking at the 54th Independence Anniversary Interdenominational Service held at the National Christian Centre, Abuja on Sunday, President Jonathan stated that, "The only thing is I appeal to all of us Nigerians to be united. If we are united, there is nothing we cannot conquer. Take the case of Ebola and this is a good example that all Nigerians must learn.
"When (Patrick) Sawyer brought Ebola to Nigeria, it was in Lagos that this incidence happened and in terms of politics, Lagos is an opposition party but the central government is the ruling party.
"From Lagos, Ebola moved to Rivers State and this is also an opposition party's state. But because all Nigerians fought Ebola irrespective of political persuasion, irrespective of religion, or ethnicity, we defeated Ebola.
"We appealed to people to stop shaking hands, and as individuals, Nigerians became very hygienic. It was not just one person, or Mr. President or the Governors, or other officials, yes they did their work, but we defeated Ebola because all Nigerians agreed to fought the war against Ebola. That is the strengthen of unity. Some of the challenges we are having, whether kidnapping or the greatest problem we are having which is terror, is because all of us have not united to fight these challenges.
"God knows that we have challenges. Even before these challenges came, God knew that we were going to have them. There is nothing that He does not know, because whatever He does is for a purpose."
Jonathan commended the security services, saying that Nigerians would have appreciated them more if they are aware of what they pass through, including sabotage.
He said what the armed forces needed were prayers and support from Nigerians to enable them defeat the Boko Haram sect.
He however admitted that the nation would not expect people to come from heaven to solve the nation's problems.
"There is no doubt, we will not require people to come from heaven or other countries to solve our problems.
"What we require from our brothers and sisters is to encourage our military because it us not easy, when people are sleeping in their houses in the night, they are busy fighting. Bullets are not badminton rackets or something," he added.
Appealing to politicians, especially those aspiring for public office to avoid destroying the country with their utterances, the President said, ‎"When I listen to some comments by some people who call themselves elders, I feel sad for this country. There are some of us who, while struggling to get what we desire, we have even forgotten that we cannot get that if we destroy our country.
"So, if we come together, while pursuing whatever achievement we want, I believe that we don't have any other country than Nigeria, I am sure we will overcome Boko Haram," he added.
Jonathan reiterated his position that the nation's amalgamation was not by accident but was designed by a divine being.
He insisted that what makes Nigeria a great nation is not its oil but its unity in diversity.
He said, "The amalgamation of 1914 was not by accident. Nigeria could not have come together under this amalgamation without the hand of God.
"I believe that what makes us great is not the oil because so many other countries produce more oil. In fact, Nigeria is a poor country if we look at the resources and population.
"But what makes us great is the complexity of our people. Nigeria is a country of very intelligent people. We can conquer any situation. And for us to even do better, we need to unite.
"For us we will continue to promise that we will do our best. We have started so many projects, this is not the place for that, otherwise people will say we have started doing campaign. We are convinced that we are going the right direction.
"Taking the issue of unemployment we are doing our best. We have set up the required process and God will see us through.
"With unity, we can achieve more. We promise that we will continue to do our best. We cannot do that overnight. We have started very well. I am convinced that we are going in the right direction. In few years to come, people will appreciate what we are doing.".
Earlier in his sermon, the President of the Christian Association of Nigeria, Pastor Ayo Oritsejafor, had described most of the challenges facing the country as self-inflicted.
He said although some troubles come the way of men without invitation like the case of the biblical Job, most of the problems in Nigeria today are being inflicted on the nation by its citizens and their foreign collaborators.
Oritsejafor listed some of the nation's problems that can be said to be self-inflicted to include corruption, terrorism, tribalism and nepotism.
He said corruption does not fall from heaven but could be traced to greed which had poverty mentality as its foundation.
This, he explained, is why corruption is everywhere both in high and low places.
"There are two kinds of troubles. There are troubles who come when you are not looking for one, like in the case of the biblical Job. That kind of trouble does not need invitation.
"There are also self-inflicted troubles. Most of Nigeria's problems are self-inflicted. Corruption does not fall from heaven, it is self-inflicted.
"Corruption is by greed and the foundation of greed is poverty mentality. The thinking that what you have is not enough. You are always struggling to get more.
"Corruption is what we have done for ourself. There is corruption in high and low places. People don't mind what happens to other people once they have what they want. There is corruption everywhere. We take and give bribe,' he said.
The first reading of the service with the theme "Be Still (Mark 4:39)" was read by Justice Walter Onoghen from 1 Samuel 30:1-19 while the President of the Senate, David Mark, read the second reading from Mark 4: 35-41.
Intercessory prayers were made for the nation/the 2015 general elections, the President and other members of the executive arm of government, the legislature, the judiciary, the church as well for for peace and development in the country.
The service also featured special musical renditions by the CAN Mass Choir conducted by Rev. Tom Takpatore and the Musical Band of the Nigerian Security and Civil Defence Corps.
Other dignitaries at the service included wife of the President, Mrs. Patience Jonathan; his mother, Mrs. Eunice Jonathan; former Head of State, Gen. Yakubu Gowon (retd.); former Head of the Interim National Government, Chief Ernest Shonekan; Deputy President of the Senate, Ike Ekweremadu; Deputy Speaker of the House of Representatives, Emeka Ihedioha; and Secretary to the Government of the Federation, Senator Pius Anyim.
Others were members of the National Assembly, members of the Federal Executive Council, service chiefs, other top government functionaries, traditional rulers, members of the diplomatic corps, captains of industry and the clergy among others.