FRIENDS DESERTED ME WHEN I LOST MY SIGHT –OPABUNMI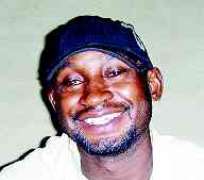 In a chronicle that outlines his journey from a mere schoolboy, having fun with friends on a football field as they engaged in inter-class competition, to a football star standing on a podium in a land far away from home, as he was being decorated with medals, Femi Opabunmi's rise to the top was smooth, but his fledgling career was halted by a problem that doctors in Europe confessed they could not solve.
The rise
Like a script playing itself out, the former national U-17 star and member of the Super Eagles squad that represented Nigeria at the 2002 FIFA World Cup in Korea/Japan hit stardom in style. He never dreamt of making it beyond the school sports, but while he was contented with the smaller world, those who were watching his development knew he could be big fish in a big pond. Among them are scouts from clubs in Ibadan, where he attended Methodist Baptist High School.
'I did not see football as a career sport. I just wanted to play like any other pupils in school and win. I enjoyed running with the ball and playing shots. I was well known at school and each time we played other schools, there would be three defenders on me kicking and shoving me. I had a slender body but I was strong inside so when they failed to stop me, they blamed one another for letting 'that small boy' score again,' he said of his early experience.
'I had not finished the senior secondary when the Cocoa Research Institute of Nigeria Football Club approached me to play for them. I was afraid to do it because my father was a policeman. My friends said I should just train with them every Saturday but it developed into something else as the coach started including me in the squad when the team had tough matches.'
It was a reluctant beginning for Opabunmi and yet against his will, two other youth clubs succeeded in persuading him to play for them.
'I played a few matches for Adepoju Babes and Christo Babes but after a match in 1999, I was shocked when someone told me that Shooting Stars had invited me to train with them.'
It was an invitation he could not reject. In 2000, coach Musa Abdullahi included Opabunmi in the U-17 squad preparing for the 2001 FIFA U-17 World Cup in Trinidad and Tobago. Because he could play as a midfielder, a left-back and a striker he made the final list, and despite Nigeria losing the final to France, he won individual prize for the tournament's second highest goal scorer.
'I remember Karimu Shaibu, Bassey Akpan, Temile Omonigo, Richard Eroimoigbe, Mohammed Suleyman, Kennedy Chinwo, Emma Baba and captain Joseph Eyimofe, who were my good friends in the camp. When we left Nigeria, it was not my intention to win the prize, I just wanted to help the team.'
The Swiss offer
While he was planning to return home, to the warm embrace of his fans and colleagues after the U-17 World Cup, Grasshoppers of Switzerland tabled a spicy offer and he was convinced that apart from making his life better it would also launch his career. This time he needed little persuasion and perhaps no consultation to make a choice.
'It was a choice I made because apart from the money, I realised that the club really wanted to guide my development. I was not expected to start playing and doing something special immediately. There would be time when I would play in the smaller teams and later graduate to play to play in the first team. The club gave me a developmental plan that I considered good so I signed their papers.'
Shock invitation
If he had planned to play down his new adventure in Switzerland, his inclusion in the Grasshoppers' first team resulted in the invitation to be part of the 2002 World Cup. He was the youngest player at the tournament.
'I was happy to be called upon to play for Nigeria at the World Cup but at the beginning, I thought I was only being encouraged. I did not know that I would make the list. My coach at Grasshoppers told me to express myself freely, enjoy myself and be strong in tackles even if it earned me a booking. He said as a young player, I needed them to escape being bullied by the established players.
'People confronted me in the camp in Otta and asked if I was a relative of coach Adegboye Onigbinde or someone at the Nigeria Football Association. They said I should be in the U-21 team and not the Super Eagles because I was wasting my time. I told them that I did not know Onigbinde or send someone to speak to him on my behalf.
'I tried to convince them but some of them remained adamant in their opinions that I bought my way into the team. When an opportunity comes, I like to seize it and that was what I did in 2002. At the camp in Otta, I became Taiwo Ogunjobi's friend in the camp because he kept on saying that I impressed him after training.
'After each training session, Onigbinde would call me aside and tell me one or two things and I learned a lot from them. I was the youngest player in the camp and I was not expecting to be part of the squad to the World Cup. My hope was that one day, my turn would come and would be able to make the team again, but God made it happen so quickly and I was in the squad to the World Cup.'
Beginning of the fall
But the smooth ride became bumpy when another Nigerian player, Alfred Omoefe, joined the Swiss club. As a compatriot, Opabunmi became his friend but it was a mismatch that angered the club officials.
'My problem with the club was caused by Alfred. He met me there but his attitude towards club rules was bad. He was always arguing with the officials and missed training without reasons. I tried to speak to me because he is a Nigerian like me but he would not listen. The management got so angry that they told us that they would not sign a Nigerian player again. I tried to appeal to them that Alfred's behavior was a personal problem that should not be used to judge other Nigerians. When it was time to renew my contract in 2004, I was not offered an extension, it also affected Alfred.'
Bitter experience in Israel
On leaving Switzerland, Opabunmi went to Israel to play for Hapoel Be'er Sheva but this time he met a harsh reception as there was no miracle for him in Israel.
'My stay in Israel was not really successful. I was offered a contract with the help of a coach who left soon after I joined the club. The new coach brought in a few players who also played in my position. I did not feel threatened because I knew that I could play better than the players he brought. But he ensured that I was not playing regularly. At training, I was used in wrong position and during matches I was not always listed.
'Sometimes I sat on the bench without being used. One day, I was used on the left-back full back position and a goal was scored from my position in the 35th minute. He removed me immediately and for 10 matches, I was not played.'
The French scouts
With his patience pushed to the limit, his relationship with the club was strained. The end of every match also pointed to the exit door for the young Nigerian. But there was a lifeline somewhere when a team that included another Nigerian visited Hapoel Be'er Sheva.
'We were playing Chukwudi Nwogu's club and it was a home match for us. Before the first half ended, we were down to nine men and chasing a two-goal deficit. To my surprise, the coach brought me in. I felt that he did so just to disgrace me. He probably wanted me to be part of the shameful outing so that when he would compile the list of players to be sacked I would be included.
'But God was on my side on the day and two things happened: I scored two great goals to make the scores 2-2 at full time. He managed to congratulate me but at that point, I made up my mind to leave the club at the end of the season.
'Fortunately for me, there were scouts from France, who had come to watch a Romanian player on the day. They left the guy and approached me to sign a pre-contract agreement. I was desperate to leave but I told them that I had to consider their offer.
'When I was out of contract, I left the club without saying bye to the coach. The club was preparing a new contract for me but I did not go into any negotiation because the coach could still cause problem for me. When I reached Nigeria, I got a call from the French scout that I should fly to Paris immediately. I was tired and needed rest so I could not make the trip. I later told them that I had no permit to enter France so they said I should come to Switzerland. I met them in Zurich on a Friday and was surprised that they came with all the necessary papers for me to sign for a division two side, Chamois Niortais. I returned home on Sunday.'
Betrayal and denial
The club also employed James Obiora at the time when it was facing difficulty to retain its status as a division two club. Happy to be reunited with another Nigerian, Opabunmi and Obiora were two of the club's big earners but they could not save it from going down.
The club was in relegation spot and we joined in the middle of the season. It was relegated to the third division at the end of the season, although I was ready to stay, the management told me that it had no money to keep me. There was a proposal that I should go and play on loan at Standard Liege of Belgium but the bid was not successful.'
Two major events happened while Opabunmi was trying to sort out his future in France. They were interwoven events that put a temporary stop to his career in the game and test his strength. While living in affluence, he had many friends and helped them pay bills, but when the problems came he had only three people to lean on- his mother and two friends in the Super Eagles. He shed tears as he narrated the story of his return home.
'I went to Romania to look for a club but I was told by the players that the situation was bad there. They said the clubs could owe up to seven months. They also said some of them work during the week and play football at the weekends. A friend told me that I was too young and talented to play part-time football.
'When I returned to France, Chamois Niortais' management told me that there was an agreement with Club Brugge of Belgium for me to play on loan. I was happy because I was eager to return and finish my contract with the club so that I could move on because my contract had not expired with Niortais.
'But it was a move that put me in trouble. I was tricked into canceling my contract with the club without compensation. I was given some papers to sign and because I trusted my manager, I just went through a few of them since I understand French and then signed. What I did not know was that underneath was another clause that stated that by signing the papers, I had cancelled my contract with the club without compensation.
'When I realised it, I was annoyed and confronted the manager who is a Frenchman. He swore that he knew nothing about it. Club Brugge was not happy about it and they were ready to fight Niortais over it. I told them that they could not win because I had already signed. I was supposed to be on loan with Brugge but at that point, I became a player that was fighting for income based on appearance.
Sight lost
With no contract with any club, Opabunmi was jobless. Despite his talent, no club was ready to offer him a trial. More trouble was to come when his sight became blurred.
'I had no contract so I was free to join another club. I returned to France where I had a house and understand the language. I was training with Niortais, despite what the club did to me. In December 2006, I was training one day when suddenly I felt a sharp pain in my eyes. I could not see the ball again. My vision became blurred and I decided to see an optician. The woman told me that in a few days, I could be blind if I did not have surgery. I went for it and the surgeon said it was a success. The bill was so much that I was forced to contact a few of my friends. Osaze Odemwingie and Seyi Olofinjana responded by sending some money to me. Others did not even reply my mails or called to know how I was feeling.
'I was expecting to see again but there was no improvement. I visited the doctor and other hospitals in Paris without a solution. They told me that my problem was a complex case and that I was too young for such a painful experience.
Returning home
With his stay in France becoming a burden to others, Opabunmi woke up one day and decided to return home to the waiting hands of his mother, having lost his father three years earlier.
'In 2007 I returned to Nigeria to seek further treatment. I had a little money on me and my father had died in 2003 so I was left with my mother to fight the battle. She visited many prayer grounds to pray for me. The pastors told him that someone was behind my problems while some people even said I once maltreated a girl who said she would deal with me. I told him that she should just keep praying and not listen to side talks. I had no problem with any girl. I have a child from a French lady in France and we have no problem about the relationship. I did not maltreat any girl in Nigeria.
'I went to Ojulowo Eye Clinic in Ibadan but I had no money to pay the bill. When Onigbinde heard about my return to Nigeria, he called me and helped me. He paid my bill at Ojulowo but the problem was only solved halfway.'
Vision at last
Money was hard to come by but the 2002 World Cup star relied on the rents from a storey building and a bungalow cum shopping complex he built while he was earning regular income. After two years of battling to regain his full eye sight, he said his prayers were answered in November 2009 when he suddenly felt that the glasses he was using were no longer good enough.
'I thought the glasses were bad so I removed them. I had no money again and I was living on the rents from my two houses and food from my mother. So I was already thinking of where to get the money to buy another pair of glasses. Suddenly, I realised that I was seeing better, I took a book and read it. I stood in the front a mirror and looked at my eyes; they were like they were before I lost full eye sight. I kept it to myself but after a week, I was too happy to be silent. I can see now without using glasses and like any other person regaining their sight after being in darkness for a long time, I am trying to adjust to my new life.'
Return to football
While speaking of his plan to return to the game that gave him joy and sorrow, Opabunmi said he knew no other trade.
'I have put in so much into the game and I am confident that I can still play at the level where I was before. I had no injury before I left and the gap is not too much. I have made a few contacts and what they want from me is to prove that I can see again. I have started training and will soon go for tests to prove that my sight is fully back.'