Lautech Oscar Awards: Students Agog As Voting Starts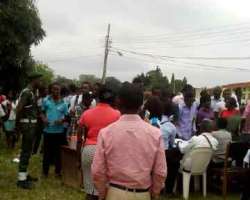 Students of the Ladoke Akintola University of Technology, LAUTECH, Ogbomosho are agog but in high suspense as the D-day for hosting the LAUTECH Outstanding Students' Choice Awards of Recognition (OSCAR) draws nearer.
Unlike all award programs, Oscar Nigeria and Ecstasy International have come with a manual, fun, credible, and pulsating system by which nominees could be voted for.
The Country Representative, Mr. John Ayodeji told news men in Owerri, Imo State that "The reports we are getting from LAUTECH, Ogbomosho are very cool. We wish all the nominees good luck".
While feeding journalists, Mr. Ayodeji said the integrity of the award remains constant as none of the nominees would be giving preferential treatment over the other.
He also commended the students of the institution for taking active part in the award.
More so, he emphasized that the essence of the award program is to recognize people based on the popular choice of the students.
The main event is taking place this Friday, August 22 while students who emerge winners will compete with their counterparts from other schools later on.
IMG 20140818 143503
IMG 20140818 144021