Diamond Bank posts strong Q2 result, with topline rising 14 per cent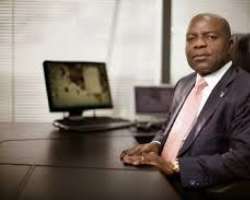 Diamond Bank posts strong Q2 result, with topline rising 14 per cent
Diamond bank Plc. (" DIAMONDBNK ") released its Q2:2014 numbers in which the bank recorded a strong performance.
The bank grew its top and bottom lines by 14% and 9% respectively with earnings performance dragged by the significant increase recorded in operating expenses of 22%.
A review of the financial result for the period indicates that Diamond Bank recorded a profit after tax (PAT) of N13.8 billion compared to N12.6 billion reported in the same period of last year.
In the same period, the Bank grew its total income from N11.9 billion in 2013 to N14.1 billion in the current business year (BY), representing 19% increase.
 
The bank's growth strategy includes a significant increase in branch network for 2014 which explains this growth. We remain positive on this ticker despite the expected sustained pressure on operating expenses for the rest of the year due to our belief in the bank's strategy and management operations.
The bank amply indicated is ability to continue to sustain growth by posting 9% increase in its profit after tax (PAT) for the half business year (HBY)ended 30 June 2014.
Speaking from the Bank's Corporate Head Office in Lagos, Dr. Alex Otti, Group Managing Director/CEO, said that the Bank maintained its business focus to deliver and surpass set targets."We are pleased to release the latest set of results which demonstrate the Bank's ability to improve on our success in the previous years despite regulatory headwinds", he stated.
Otti said, "We continued to report healthy asset growth (up 15% from Dec. 2013) and have maintained strong deposit growth especially from the retail segment of the market."
The Bank showed good appetite in funding the real sector as loans and advances to customers were upped by 10% to N756 billion fromN689 billion in the previous year.
Total Assets of the Bank now stand at N1.7 trillion up 15% from N1.5 trillion in December 2013, while deposits from customers rose to N1.3 trillion up 8% from N1.2 trillion in December 2013.
"Our cost profile remains efficient as we continue our expansion drive; and our risk indicators continue to show sustainable asset quality ratios that adequately support the bank to deliver on the target returns by year end," noted the GMD
Although the Bank's business focus is sharpened on Corporate, Retail and Public Sector businesses, the Bank has continued to grow and maintain leading position in the Retail Banking segment of the economy.
Disclaimer:

"The views/contents expressed in this article are the sole responsibility of the author(s) and do not necessarily reflect those of The Nigerian Voice. The Nigerian Voice will not be responsible or liable for any inaccurate or incorrect statements contained in this article."