Nasarawa lawmakers serve Gov impeachment notice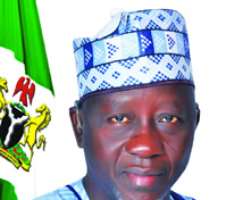 Nasarawa lawmakers serve Gov impeachment notice
The gale of impeachment which is blowing through the country has finally hit Nasarawa State government.
The state's House of Assembly through the Speaker, Alhaji Musa, on Monday directed the clerk of the assembly, Ego Maikeffi, to serve Governor Umaru Tanko Al-Makura a notice of impeachment, for gross misconduct.
The action of the lawmakers followed a motion of public interest raised by the deputy majority leader of the assembly, Mr Yahaya Usman, during the plenary sitting in Lafia, the state capital.
According to reports, the motion was duly seconded by the chief whip of the assembly, Honourable Mohammed Okpede.
It was learnt that the House came up with 16 allegations against the governo, all bordering on extra-budgetary expenses.
Presenting a document containing allegations of gross misconduct against Governor Al-Makura, which was signed by 20 lawmakers out of 24, Honourable Usman said "I am on my feet to raise a motion under the matter of public interest and I will read the document I have in my hand. This is a notice of impeachment of Governor Tanko Al-Makura of Nasarawa State for gross misconduct.
"For the violation of the constitution of the Federal Republic of Nigeria 1999, as amended, today, being the 14th day of July, 2014, the 20 members of the 24-member of this house unanimously endorsed to serve Governor Al-Makura notice of impeachment."
The speaker, Honourable Ahmed, while receiving the impeachment notice, said the lawmakers had complied with the provision of the constitution to serve the governor with the notice.
The speaker therefore directed the clerk to serve the notice to Governor Al-Makura with immediate effect, adding: "if Governor Al-Makura could not be reached for the service, the clerk is directed to serve him the impeachment notice through the media."
The Special Adviser to the Governor on Special Duties, Mr Mohammed Abdullahi, in reaction to the move by the House, said that members of the assembly received about N30 million each to perfect the impeachment process.
Abdullahitold The Tribune on Monday that the Presidency was behind the impeachment plot.
He alleged that the presidency was using proxies, including the Minister of Information, Mr Labaran Maku, a top official in the Presidency, among others, as point men.
The aide alleged further that the bribe was given to the lawmakers in dollars on Sunday.
"If this is not coming from the Presidency, why did the Inpector General of Police deploy 160 mobile policemen to guard the assembly and members to hatch the plan?" the aide queried.
Abdullahi, who described the impeachment notice as an act of gross disservice to the people of Nasarawa State, added that there was nothing to warrant such.