ILE IFE Under Siege.....As Iyiola Omisore Parades Killer Squad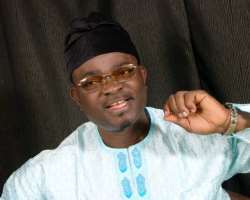 As a key stakeholder in Osun politics, I found it most preposterous and ridiculous the presence of masked men behind the governorship candidate of the Peoples Democratic Party in Osun State, Senator Iyiola Omisore.
My unbiased findings show that these armed and masked individuals or "sects" go about covering their faces during Senator Omisore's campaigns, political gatherings and rallies, they also have a culture of stationing themselves at every strategic junctions of the roads, and more shockingly at notable politician's domains, particularly those of the ruling APC.
It does not take a genius to know that these are blood thirsty armed bandits with vicious intent and purpose. In their bizarre nature, they shoot into the air sporadically with automatic pump action to cause panic among innocent residents within Osun metropolis.
With all these crass shenanigans and show of shame, I think Nigerians truly need to know who these men are and what they represent. Are they operatives of SSS, Army, Police or NSCDC? This is the first time in the history of our State to see politicians going about with such questionable people and a candidate recklessly using sirens with attendant nightmare of traffic gridlock.
Only yesterday (July 1, 2014) in an unprecedented manner, Ile Ife, the cradle of Yoruba race witnessed bomb blast, the city which often prides itself as the Origin of Yorubaland!. This attack left one to wonder if this is the kind of origin we are talking about, as Ile Ife now becomes the first Yorubaland to experience bombing, it is so sad.
Signed:

Hon Rotimi Makinde,
Representing Ife Federal Constituency