Lagos begins clampdown on illegal siren users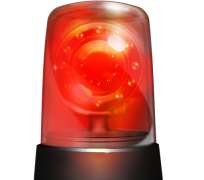 Embarrassed by indiscriminate use of siren in Lagos State, the government yesterday directed law enforcement agencies to begin apprehension of offenders as well as their prosecution.
The Attorney General and Commissioner for Justice, Mr. Ade Ipaye, in a statement warned the general public, especially drivers, against the use of siren and noisy devices indiscriminately within the state.
The use of siren and other noisy devices in vehicles is prohibited under the Lagos State Road Traffic Law.
According to the AG, it was only vehicles used for emergency purposes, such as ambulances, fire engines and law enforcement vehicles on urgent call that are exempted from the rule.
Ipaye added that apart from those listed, nobody is allowed to use siren or other noisy device in a vehicle within the territorial boundary of the state.
He said: 'The use of siren and other noisy devices have caused unnecessary harassment to innocent road users and resulted in many instances of traffic congestion, avoidable motor accidents, damage to property and personal injury.'
Section 24 (C ) of the Lagos State Road Traffic Law 2011, made it criminal offence to use or deploy siren or other noisy device in a vehicle within the state.
'By virtue of section 36(1) of the same law, convicted offenders may be fined up to N30,000 and/or imprisoned for up to three years,' he noted.
Ipaye said in addition to the above penalty, offenders would be held fully responsible for damage or injury caused by his contravention and the offending vehicle is also liable to be forfeited to the state by virtue of Section 36(2) of the law.
'Law enforcement officers have been directed to ensure full compliance with the Lagos State Road Traffic Law for the purpose of ensuring the peace, safety and security of all residents and visitors on our roads,' Lagos AG added.
Ipaye, while thanking the law-abiding people of Lagos State for their continued partnership in making the state a model megacity, said anyone that contravened any section of the law should be prepared to face the full wrath of the law.