My book will help to curb cybersex crimes worldwide – Abdulazeez Henry Musa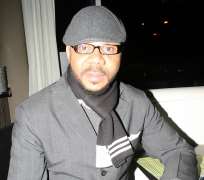 By Elvis Iruh
It is no gainsaying that the internet is becoming a greater challenge especially on the volume of crimes being committed via internet. A Nigerian writer based in Europe, Abdulazeez Henry Musa has just written a best seller book addressing this problem and other issue. In his book titled, 'Cybersex – A Nightmare of the 21st Century- The Rebirth of Armageddon'
The book is for all ages and addresses issues that would help to reduce the cyber sexual abuses rampant on young person via the internet. Excerpts from the interview with the author
Abdulazeez Henry Musa is from Nasarawa State, Nigeria, West Africa. A graduate of Ahmadu Bello University, Zaria, which is one of the top and most prestigious universities in Nigeria. He has acquired several years of good working experience with various top banking institutions within Nigeria before retiring to start up his own consultancy business overseas. On a professional level, he has been very active in the forefront of addressing societal issues like child abuse and molestation, child sex trade, stress management, marriage and divorce vis-à-vis other social ills that are impacting negatively on the well-being of children as well as jeopardizing the safety walls of our society.
TNV: When did you start writing or discovered you had the gift to write?
Henry Musa: Well, writing has always been my passion growing up as a young teenager in my Secondary School days through University and into adulthood. I was very opportune working as Personal Assistant to Branch Managers, Executive Directors and few top management officers within the banking industry which further improve my writing skills and inspired me the more to further with my good writing skills which has always been part of me till date.
TNV: How many books have you written and published and if this is the first, how easy was it to get a publisher abroad as an African writer?
Henry Musa: I have actually written several unpublished books like The Impact of the Oil Industry on the Nigerian Economy, Motivation of workers in an Industry, September 11 - The Dark Cloud, The Fury of a Child to mention a few. Cybersex – A Nightmare of the 21st Century "The Rebirth of Armageddon" is my first ever published book. My second book, The Chronicles of the 21st Century Sexual Predators "The Epiphany of a Lust World" is presently in process and is scheduled for release into the market on or before the end of 2014. Well, getting a publishing company overseas wasn't quite an easy task but rather challenging mostly when approaching publishing companies and discovering that, the language barrier "factor" takes its toll on your negotiation mostly within the E.U. countries. Thank God for modern technology that an American Publishing Company, Strategic Book Publishing and Rights Agency (SBPRA) in Houston, Texas came to my rescue and made my dreams of becoming an author a reality.
TV: Cybersex as a title, what motivated you to write this book? Is it from personal experiences or research work?
Henry Musa: Change! That was my motivation and inspiration to write this book. When you listen to the radio, watch the news on television, read newspapers, a ten minute walk in the streets of Amsterdam or hanging out in the streets of Las Vegas, you will floored seeing people mostly young teenage girls walking the street with body revealing clothes and saggy blue jeans with their panties hanging out in the open. This will not only amaze you but depict to you how much our society is been bedeviled with sexual promiscuity, pedophilic acts and people's "old and young" constant overindulgence in the world of cybersex, which in recent times has become the order of the day that is taking its toll on our society and ostensibly destroying millions of lives all over the world mostly by sexually sadistic predators who are using the anonymity of the internet to carry out their heinous crimes like child abuse, molestation, child sex slave et al on innocent young vulnerable teenager children, it will send chill down your spine. Putting into perspective, the challenges this horrendous acts is posing to our society most especially to young vulnerable teenagers who are usually caught up in the forefront of this affront oblivious of the danger it pose to their safety and psychological well-being, I felt it was high time for the truth to be told about the danger of cybersex so as to restore change and sanity back in our God's giving society and make the world a much better place for our children and the next future generation. This was basically my motivation and driving force.
TNV: Governments around the world are concerned of this crime over the use of the internet; have you avail your books to them as a tool to fight this crime?
Henry Musa: In my book, Cybersex – A Nightmare of the 21st Century, I lay it all out the various challenges this issue is posing in our society as well as the red-flags and safety measures people, young and old, can use to elude the candy plots of sexually sadistic predators. In this book, I also recounted some basic ideas as well as recommendations that Children, Parents and Government can put into practice in other to horn-in and quell this deadly trend that is proliferating our society, causing great havoc and endangering the well-being of our children and the society at large.
TNV: This crime seems to be well organized, particularly in the West so how do children get protected from these predators using the internet?
Henry Musa: As you well know, the internet is a global system of interconnected computer networks which is not only limited to the West but the entire world. It has today become the cradle of our society and thus, plays a very vital role in our lives not just as an individual but a society. The basic key of protecting children from these online or offline predators is enlightening and educating them about the danger that is lurking behind the dark clouds of the internet. This is all laid out in the recommendation chapter of my book, Cybersex – A Nightmare of the 21st Century. There are a lot of valuable warning signs and red flags people mostly children can use to protect themselves and elude the deadly plots of this Psychopathic and Sexually Sadistic Predators who are hovering our society and streaming through the internet via social network sites and chat room seeking for young troubled and vulnerable children to devour by unleashing a cloud of terror and leaving tens of thousands of people all over the world in constant state of agony.
TNV: Don't you see this as a challenge in Western societies where kids are exposed to internet use at a very young age including devices like mobile phones?
Henry Musa: Make no mistake; the internet phenomenon is not just a challenge that's limited to the Western societies alone but the entire human race which includes third world countries as well. Kids all over the world are been spoilt and exposed at the early age of 8 to 12-year-old to mobile phones and other communication devices with free Wi-Fi access mostly by parents just to keep up with the societal trends oblivious of the danger it is imparting and posing on the physical, mental and psychological well-being of their children as envisaged in our society today. In the 21st century, the Internet is considered the apex of human creation and with various Free High Gain Wi-Fi adaptors flooring our society; people mostly young teenagers can have free access to the internet at any giving place or time unsupervised.
TNV: I could imagine this is a must read book for all persons of different ages to read, so how do they get access to your book?
Henry Musa: Most certainly, my book Cybersex – A Nightmare of the 21st Century is a must read for all walks of life because it paradoxically deals with a burning issue that is affecting the life and physical well-being of our children as well as the future of our society. The book is available in Soft Cover and eBook respectively, and it can be purchased at the publisher's websites as well as other online stores like Amazon, Barnes and Noble, EBay, Goodreads.com and lots of other internet sales points and online bookstores worldwide.
TNV: Where do you go from here? Do you plan to write a follow up on this book or on a different subject completely?
Henry Musa: Well, as I earlier accentuate, my second book The Chronicles of the 21st Century Sexual Predators "The Epiphany of a Lust World" is in presently in process and scheduled to be out at the end of 2014. It is indeed a follow up but basically look at this issue from a different dimension i.e. the "sexually sadistic predator" and "compulsive predators" going beyond the dark clouds of the internet and unveiling the actual perpetuators behind the mask. I still have a lot of books in the offering and will be put out to my fans and the public as it unfolds.
TNV: How do you see African writers doing in Western world in terms of style of writing and accessibility to the audience?
Henry Musa: Well, as a new entry into the circle of international authors, I will commend that African writers so far are doing remarkably well from my perspective. My observation is that, they only have to limit narrowing their scope of writings to issues affecting just the African continent alone but expand their horizon to burning issues that are affecting and militating against the well-being of the wider sphere of our society. Social media like Facebook, Twitter, and LinkedIn to mention a few are very important channels we can use to gain more audience. For most African writers, they always limit themselves to people they know "One-on-One" failing to understand that, there is power in numbers! The wider your scope, the better chances for you to build a larger number of audience which in turn helps you as an author to gain the large recognition every writer dreams about to exhale.
TNV: Does your book has religious undertone when you use the word, Armageddon
Henry Musa: Nice question, I was actually expecting it. Well, Armageddon as we all know is a Biblical word that typifies "The last battle between good and evil before the Day of Judgment." It is so perverse in the 21st century society today, hearing scenarios of father sexually assaulting daughter, mother abusing son, Adults molesting minor/teenager, child sex trade, trafficking to mention a few demonizing our society and thus, causing havoc and jeopardizing the well-being of our children and safety walls of our society. On the contrary, I only use the concept of Armageddon to encapsulate the essential features of my book. Although, I have a chapter in my book that critically looks at religious views on sexuality and that was just it. Obviously, it has no religious undertone.
TNV: Lastly, what should individuals or institutions be doing to tackle this cybersex problem?
Henry Musa: Just like I earlier explained in one of your questions, the cybersex phenomenon is a very challenging situation mostly with the anonymity "a safe haven" the internet affords to the perpetrators or its loyal users makes it seemingly difficult to ascertain. But, notwithstanding, I was still able to layout in my new book Cybersex – A Nightmare of the 21st Century some guidelines as well as strategic steps children, parents, government and institutions can adopt in eluding this deadly trend and best approach to tackling this silent killer "Cybersex". This is a burning issue that is affecting every single individual, man or woman, boy or girl, young or old on the face of the earth. The battle is definitely not over until it is over.
TV: Musa, it is wonderful speaking to you and thank you for your time.
Henry Musa: The pleasure is all mine please. I must commend the wonderful publication you have in quality.
Interview by Pastor Elvis Iruh