FAMILIAR NAMES MISS FINAL MINISTERIAL CUT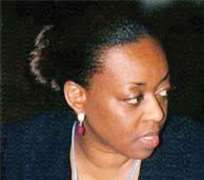 By Emmanuel Ogala and Terfa Tilley-Gyado
March 23, 2010 01:45AM
Madueke, may return to the beat.
Less than half of the federal executive council members sacked last week will return in the new cabinet, it was confirmed yesterday. A presidential source close to the selection process disclosed that many of the key ministries would be helmed by completely new faces.
Some of the notable returnees include Sam Egwu, former minister of education, Diezani Allison Madueke; Adetokunbo Kayode; Shamsudeen Usman and Shettima Mustapha.
The source also revealed that there is no place in the new cabinet for Mansur Muhtar, Michael Aondoakaa, Adamu Aliero, Dora Akunyili and Godwin Abbe. Abba Ruma, former agriculture minister, has an outside chance of making the final list, according to the source. Crucially, the ministers of key ministries like power, defence, works and power will not be returning to their jobs.
Security screening
It was also learnt yesterday that a number of the returning cabinet members have already undergone a security screening ahead of the list being passed on to the Senate.
The acting president's list of nominations is expected to officially reach the National Assembly today. Sources in the National Assembly said the final list was been prepared last night.
As of last night, the list was still being expected by the leadership of the National Assembly, while the Presidency was making last minute modifications.
A presidency source confirmed that four state governors have still not sent their nominations as of yesterday afternoon and may not be considered in the final exercise.
'The list is almost complete apart from some states, four in number, that have not yet sent all their nominees,' the source said.
Letter from the Acting President
When delivered, the list of nominees is expected to be read on the floor of the Senate as a 'letter from the Acting President' before the day's plenary starts.
Thereafter, probably the next day, the Senate will go ahead to act on the letter by commencing the screening of the nominees.
During the screening, each nominee is expected to mount a podium, give a brief account of the nominee's background and expertise. The senators present are then given the opportunity to ask the nominee various questions. It usually takes a minimum of 10 minutes to screen ministerial nominees.
In some instances, where the nominees are old hands, the nominees are merely asked to bow and leave without facing any questions.