House asks CBN to suspend new policy on Bureau de Change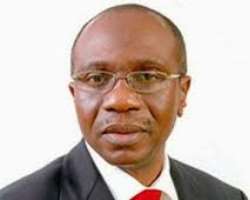 House asks CBN to suspend new policy on Bureau de Change
The House of Representatives has asked the Central Bank of Nigeria (CBN) to put on hold its plan to increase the minimum capital base for Bureau de Change operators from present N10 million to N35 million.
The House also summoned the CBN Governor, Godwin Emefiele, to appear before it to clarify the development.over the new capital base of 35 million naira set for Bureau de Change (BDC) operators by the Apex Bank.
The action of the House was sequel to a motion by a lawmaker, Ibrahim Gusau, that the new policy will send most of the operators out of business thereby increasing the national unemployment rate and heightening the insecurity risk in the country.
The House asked the Apex Bank to suspend the new policy, which members tagged elitist and racist in nature, pending the bank governor's full brief on the policy.
The Apex bank's reasons for the review was to correct observed deficiencies in the operation of (BDCs) in Nigeria, which they say has led to sharp practices in the foreign exchange market; check the depletion of external reserves, financing of unauthorized transactions and dollarization, among others.
Lawmakers at plenary, kicked against the 25 per cent increase, warning that it is ill timed and will cause much more harm than good.
While some other lawmakers supported the policy with the argument that it will ensure greater efficiency and improve the power of the naira against the US dollar, some  disagreed with that assertion.
The lawmakers alleged that the news of the policy review has weakened the naira exchange against the dollar and will in no time send operators out of business.
They summoned the Apex bank governor to explain the review and asked that the policy be halted in the interim.