Soyinka to Military: keep to your constitutional mandate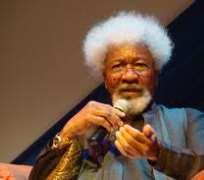 Literary giant and first African Nobel Laureate for Literature, Wole Soyinka, has asked the Nigerian Army to keep off politics and focus on their constitutional roles of safeguarding the territorial integrity of the country.
Speaking at a press conference in Lagos on Saturday,.
Soyinka also condemned the stopping of some governors of the All Progressives Congress, APC, from attending a campaign rally in Ekiti State describing it as an act of war.
He spoke at a press conference in Lagos on Saturday.
Soyinka further reiterated his call to Nigerians to support the efforts of the military in their fight against the Boko Haram insurgency.
He further called for an immediate end to the violation of citizens' rights by law enforcement agents, adding that those involved in the Ekiti incident be punished to serve as deterrent to others.
"What happened in Ekiti was a violation of the constitution and those who are responsible should be exposed and where necessary punished.
"This is the kind of conduct which this police commissioner Mbu considered a proper conduct for a law officer in Rivers State. When we spoke, in this very hall that day, people were saying what business does Wole Soyinka, Falana have in Rivers state?
"What we were saying is that if we allow this kind of conduct to be accepted once, there will be escalation. It happened, and in a more dangerous dimension in the same Rivers State," Mr. Soyinka said.