Minister denies receiving funds from agencies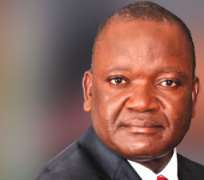 The Supervising Minister of Aviation, Chief Samuel Ortom, on Tuesday denied that he was secretly receiving monies from agencies under the ministry, to fund his political ambition.
Ortom made the denial in a statement he signed and made available to aviation correspondents in Lagos.
He described the reports alleging that he was collecting money from the agencies as 'malicious' and challenged anyone with any evidence on it to publish it.
'I state categorically that no parastatal or agency under the ministry or any official has been tasked or is being tasked to remit any money and has ever made monthly or any payments to me to fund my campaign.
'I challenge anyone with proof of such to step forward and publish, for the general public,' he said.
Ortom, who is also the Minister of State, Ministry of Trade, Industry and Investment, claimed that masterminds of this mischief and blackmail' had syndicated it to several media organisations.
According to him, their plan is to run me down in the media and other platforms, but by the grace of God and the discerning Nigerian public, they will surely fail.
He said that a look at the report of the allegation indicated that its sponsors had failed to prove the allegations, adding that the allegations could never be proved 'because such a thing never happened''.
He said that 'unseen sinister hands'' were at work in the allegation and campaign against him. (NAN)